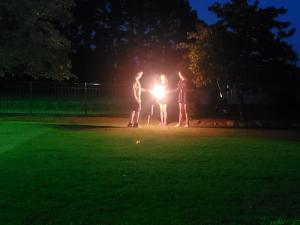 Featuring Contributions by Rabbit (The Who), Steve Kilbey (The Church) and Doug MacMillan (The Connells)
ASHEVILLE, NC, USA, August 24, 2023/EINPresswire.com/ — "Original Score" is a 43-minute piece of music consisting of 11 uninterrupted tracks. The intent is for it to be listened to all at once, in the dark, accompanied by someone you trust, and a Lava Lamp.
"Electric Forgiveness was initially a side project that I developed with John Bundrick," said Third of Never founder Jon Dawson. "We (Third of Never) were recording at the House of Vibes in New Jersey at the same time as The Smithereens. At one point we couldn't book sessions due to their mixing deadline, so I put the guitar down and dove into the world of electronica."
The new Electric Forgiveness album "Original Score" was also conceived during a break in Third of Never's recording schedule.
"I obtained a Korg Kasoscillator synthesizer and did not come up for air for days," Dawson said. "Within a week I had the basis for another Electric Forgiveness record. This led to quite a bit of cross-pollination between the Third of Never and Electric Forgiveness projects."
While dabs of electronica floated into the Third of Never album (slated for an April 2024 release), Electric Forgiveness inhaled some guitar and vocal tracks from the Third of Never camp.
"We're lucky to have Doug MacMillan of The Connells as our vocalist in Third of Never," Dawson said. "We sampled his voice along with a Steve Kilbey cameo and bits of my guitar for the Electric Forgiveness record. You'd think it would be terrifying trying to juggle two albums at once, but they actually informed each other rather nicely."
"Steve Potak (The Connells) did 90% of the keyboards on this album in one take," Dawson said. "What makes this even more remarkable is that he didn't really hear any of the tracks until he sat down to record his parts."
Vocalist/multi-instrumentalist Sara Bell was enlisted for Electric Forgiveness after participating in a Third of Never session.
"Her voice is as pure as you'll ever hear, so I asked her to come in and improvise over sections of the Electric Forgiveness music," Dawson said. "Her performance elevated everything. There's a beautiful eeriness in her voice that pulls the listener in instantly."
Kurt Reil of the Grip Weeds contributed drums to the album.
"This is the most amazing recording of Kurt's drumming I've ever heard," Dawson said. "He usually has to be concerned with 'playing for the song' and finding the proper spots to explode, but with this music, there aren't any songs in the traditional sense, so he's allowed to just blow for 40 minutes, and his performance is staggering."
Bassist Michael Kelly (Femmes of Rock, Grip Weeds, Gene Simmons) came to mind after Dawson remembered a conversation they'd had about music over a decade earlier.
"The Grip Weeds and Third of Never played at a music festival in Philadelphia around a decade ago," Dawson said. "Michael and his wife had a cookout for both bands afterward. While we were there I played Michael bits of the first Electric Forgiveness album. One piece reminded him of Tomita – which he was a fan of, so when it came time to find a bassist for this new project he seemed like a natural fit. He did a great job adding melody to this sprawling ball of sound."
The album will be released on October 15, 2023 by Broken Sound Tapes in conjunction with 343 Records and Jam Recordings. The initial formats will be CD, cassette and digital.
Electric Forgiveness: Jon Dawson, John Bundrick, Sara Bell, Michael Kelly, Steve Potak, Kurt Reil
Guests: Doug MacMillan and Steve Kilbey
Track List:

1. Two-Week Notice (Bundrick, Dawson, Potak, Kelly)

2. Initials In The Wood (Bell, Dawson, Kelly)

3. Rose Is On The Air (Bell, Dawson)

4. Frank and Paul Meet Rod (Dawson, Potak, Kelly)

5. Expired Dreams (Dawson, Kelly, Bell, Potak)

6. Meaning To Send (Dawson, Potak, Bell, Kelly)

7. Bucklesberry Nocturne (Dawson, Bell, Kelly, Potak)

8. Prozac's Theory of Attraction (Dawson, Potak, Bell)

9. A Name Without Pier (Dawson, Bell, Potak)

10. Dude, Rose Isn't Here (Kelly, Bell, Potak, Dawson)

11. What Kind of Battery Was He Wearing? (Bell, Dawson, Kelly)
All tracks arranged by Electric Forgiveness:
Produced by Jon Dawson, Benjy Johnson, and Tim Harper
Recording Studios: Little Vegas (La Grange), Earthtones (Greensboro), House of Vibes (Highland Park), Starpoint (Carrboro), Mrs. Kelly's Son Studios (Philadelphia), Rabbit Studios (Somerset)
Doug MacMillan: vocal samples from "Rolling Down A Hill," "We Grabbed The Ground" and "Wild Piece" by Third of Never
Steve Kilbey: vocal sample from "Rolling Down A Hill" by Third of Never.
To purchase: BrokenSoundTapes.Bandcamp.com
For more information:

www.ElectricForgiveness.com

www.facebook.com/electricforgiveness

www.instagram.com/thirdofnever
For review copies contact: [email protected]
Press inquiries:
Billy James
Glass Onyon PR
+1 828-350-8158
[email protected]


Originally published at https://www.einpresswire.com/article/651807513/electric-forgiveness-a-lysergic-mood-journey-of-epic-proportions-to-release-debut-album-original-score