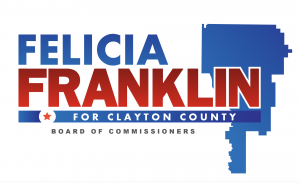 Felicia Franklin Announces Candidacy for Chairwoman of Clayton County, Pledges to Lead County Towards Progress and Prosperity
Felicia Franklin announces run for Chairwoman of Clayton County Board of Commissioners! Launches campaign focused on progress and community empowerment.
CLAYTON COUNTY, GEORGIA, USA, July 4, 2023/EINPresswire.com/ — Felicia Franklin, a dedicated community leader and advocate, officially declares her candidacy for the position of Chairwoman of Clayton County. With a deep commitment to the county's welfare and a clear vision for its future, Franklin seeks to harness the immense potential of Clayton County and bring positive change to every corner of the community.
Driven by a desire to serve and uplift Clayton County, Felicia Franklin understands the challenges and aspirations of the county's diverse residents. She aims to prioritize inclusive economic growth, ensuring that economic development initiatives benefit all residents by generating job opportunities, supporting local businesses, and attracting investments that contribute to the overall prosperity of the county.
Education holds a special place in Franklin's vision for Clayton County. She plans to collaborate closely with the Clayton County School System to improve educational outcomes for students. By fostering innovation, providing necessary resources, and forging strong partnerships between schools and the community, Franklin intends to create a pathway to success for every child.
Franklin recognizes the importance of efficient transportation infrastructure in enhancing the county's connectivity and mobility. She will champion the enhancement of transportation options and work collaboratively with stakeholders such as the Georgia Department of Transportation and MARTA to ensure convenient access to reliable transit for all residents.
Public safety remains a top priority in Franklin's campaign. By working closely with law enforcement agencies, community organizations, and residents, she aims to implement effective strategies that promote safety, reduce crime, and enhance the overall well-being of Clayton County's communities.
Transparency and open communication are foundational principles of Franklin's governance approach. She firmly believes in actively engaging with residents, fostering a culture of inclusion, and ensuring that their voices are heard and considered in decision-making processes.
"I firmly believe that the strength of Clayton County lies within the unity and determination of its residents. Together, we have the power to transform challenges into opportunities, obstacles into stepping stones, and dreams into reality," stated Felicia Franklin. "As Chairwoman, I am dedicated to serving the best interests of all Clayton County residents. With my extensive experience, community involvement, and unwavering dedication, I will work tirelessly to propel Clayton County forward. Let us rise above limitations, embrace our potential, and create a future where every resident of Clayton County can thrive and prosper. Together, we will build a legacy of resilience, compassion, and progress that will inspire generations to come."
Franklin humbly asks for the support and the opportunity to lead Clayton County as its Chairwoman. Together, under the banner of #ClaytonCountyStrong, let us build a thriving, united, and prosperous Clayton County for generations to come.
To find out more about the campaign and how to get involved visit www.HiFelicia2024.com for details.
SHAHEEN SOLOMON
SOLOmedia Communications
+1 678-687-8405
email us here
Originally published at https://www.einpresswire.com/article/642952379/felicia-franklin-announces-run-for-chairwoman-of-clayton-county-pledges-to-lead-county-towards-progress-and-prosperity