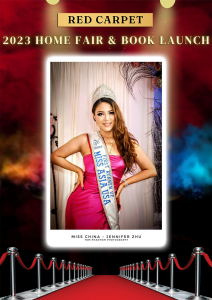 LOS ANGELES, CA, UNITED STATES, June 23, 2023/EINPresswire.com/ — Your Home Sold Guaranteed Realty, the prestigious INC 5000 Fastest Growing Private Company in America, is thrilled to announce the grand event of the year: the 2023 HOME FAIR & The Ultimate Books Launch Red-Carpet Premiere. This exclusive celebration, to be held at the esteemed Elks Lodge in San Gabriel, will showcase the talents of Miss Asia USA 1st Runner Up and The Queen of Hollywood, Jennifer Zhu, as she unveils the book cover for her upcoming release.
Jennifer Zhu, renowned for her professional fashion runway and TV commercials modeling, as well as her notable acting career in movies like "Team of Two" and her YouTube series "The Secret Agent Action Series," continues to mesmerize audiences with her multifaceted talent. Her exceptional achievements as the first runner-up in the Miss Asia USA pageant have solidified her position as a captivating personality in Hollywood.
The 2023 HOME FAIR & The Ultimate Books Launch Red-Carpet Premiere is set to be a truly unforgettable affair, combining the excitement of a home fair with the glamour of a red-carpet book launch. This event will be the ideal platform for buyers, sellers, and industry professionals to gather and explore the latest trends, resources, and insights in the real estate market. Alongside this, guests will have the exclusive opportunity to witness the highly anticipated book cover reveal of The Ultimate Real Estate Books Collection, a comprehensive series covering a wide range of essential topics for navigating the complexities of today's real estate industry.
Attendees will be treated to a lavish red-carpet experience, mingling with renowned authors, real estate professionals, industry experts, and other like-minded individuals who share a passion for real estate. The event will feature celebrity guests from the industry, media coverage, and professional photographers capturing the most memorable moments.
"We are ecstatic to present the 2023 HOME FAIR & The Ultimate Books Launch Red-Carpet Premiere," exclaimed Rudy Lira Kusuma, CEO at Your Home Sold Guaranteed Realty. "This event will not only bring together industry leaders, influential figures, and real estate enthusiasts, but it will also provide a platform for valuable knowledge sharing and celebration."
The Elks Lodge in San Gabriel will be transformed into an enchanting setting, perfect for this momentous occasion. Guests will indulge in live entertainment, delectable hors d'oeuvres, signature cocktails, and an atmosphere conducive to networking and celebration.
To ensure your place at this exclusive red-carpet event and secure your spot at the book launch party, early registration is strongly encouraged. Limited space is available, so make sure to visit www.YHSGRevent.com to register and reserve your spot today.
About Your Home Sold Guaranteed Realty

Your Home Sold Guaranteed Realty is a leading authority in real estate education and resources. With their dedication to providing invaluable insights and expert advice, they have become a trusted name in the industry. As the INC 5000 Fastest Growing Private Company in America, they continue to elevate the real estate landscape through innovative strategies and unparalleled service. To learn more about Your Home Sold Guaranteed Realty, please visit www.YourHomeSoldGuaranteed.com
RUDY LIRA KUSUMA
YOUR HOME SOLD GUARANTEED REALTY, INC.
+1 626-789-0159
[email protected]
Visit us on social media:
Facebook
Twitter
LinkedIn
Instagram
YouTube
TikTok
Other


Originally published at https://www.einpresswire.com/article/641153770/jennifer-zhu-miss-asia-usa-1st-runner-up-to-unveil-book-cover-at-2023-home-fair-the-ultimate-books-launch-premiere