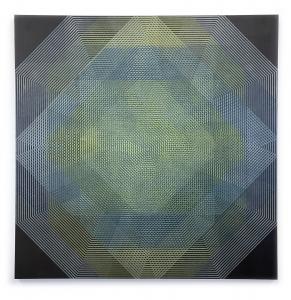 New exhibitions at Desta Gallery, Space of Intersection, featuring the work of Carrie Ann Plank, and Tangible Forms, featuring the sculptures of Brandon Stieg
MILL VALLEY, CA, USA, October 4, 2023 /EINPresswire.com/ — Desta Gallery is pleased to announce two concurrent solo exhibitions, "Space of Intersection", featuring the work of Carrie Ann Plank, and "Tangible Forms", featuring the sculptures of Brandon Stieg. The opening reception will be held on October 14, 4:00 – 6:00 pm. The exhibitions will be on view through November 11.
CARRIE ANN PLANK is a San Francisco-based artist working in installation, printmaking, and painting. Focusing on layers of sophisticated geometry, Plank examines the space of intersecting patterns to describe new structures. The work utilizes mathematical equations to create multiple overlapping impressions that reveal additional distinct pattern formations. The resulting forms are space in between, the intercession, of concrete data.
Plank's work is included in many private and public collections, including the Fine Art Archives of the Library of Congress, Fine Art Museums of San Francisco, Achenbach Foundation for Graphic Arts, the Guanlan Print Art Museum in China, Museum Meermanno in The Hague, Netherlands and The Museo Nacional de Bellas Artes, Havana, Cuba, as well as corporate collections including Google, Genentech, and Norwegian Cruise Lines.
Recently, Plank has also participated in multiple residency projects, including KALA in Berkeley, CA, Konstnärernas Kollektiva Grafikverkstad in Malmo, Sweden, Local Language, Oakland, CA, Edition/Basel: Printed in Basel at Druckwerk in Basel, Switzerland,
Additionally, Plank has had a 20-year teaching career. She received her Bachelor of Fine Arts in Printmaking from East Carolina University and her Master of Fine Arts in Printmaking from Pennsylvania State University.
BRANDON STIEG is a sculptor and craftsman of wood and metal whose creations delve deep into the heart of our shared human experience and the mysteries of our existence and purpose.
Stieg's artistic journey began in early childhood and expanded with his studies in Fine Art and Architecture at the University of Colorado at Boulder and The Crucible in Oakland. He has honed his skills for over 30 years, working in these mediums and exploring new and innovative techniques in manipulating and balancing metal and wood.
Stieg's work captures the essence of nature and human existence into tangible forms. He encapsulates the delicate balance between the industrial components that shape our world and the environment we inhabit. Due to the level of detail and surface textures accomplished in his process, many of Brandon's hand-formed, forged, carved, and fabricated pieces are mistaken for castings.
Recently, Stieg has focused his full attention on creating sculptures after many years as a home designer and builder. Brandon is a recipient of several awards and accolades for his work. In 2022, his work won 1st place in sculpture, Best of Show overall, and Artist of the Year at the juried exhibition of the Marin County Fair.
Stieg currently resides in Northern California.
About Desta Gallery: Desta Gallery is a contemporary art gallery located in Mill Valley, California. The gallery exhibits a diverse range of artwork by emerging and established artists. The gallery's exhibitions and programming aim to foster connections between artists, collectors, art enthusiasts and the community at large.
Emebet Korn
Desta Gallery
+1 415-302-3037
email us here
Originally published at https://www.einpresswire.com/article/659482244/new-two-concurrent-solo-exhibitions-space-of-intersection-and-tangible-forms-at-desta-gallery