Fertilizer Company
High-Quality Fertilizers
Fertilizer Company Throughout The Us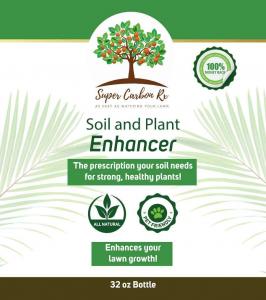 Super Carbon RX Products
Introducing Super Carbon RX, a leading fertilizer company in the USA, offering specialized fertilizer options nationwide.

USA, July 14, 2023/EINPresswire.com/ — Super Carbon RX, a renowned and innovative fertilizer company, proudly announces the options of specialized fertilizer to agricultural professionals and enthusiasts nationwide. With a commitment to maximizing crop yield, sustainability, and environmental stewardship, Super Carbon RX has established itself as a trusted partner for farmers, gardeners, and other stakeholders in the agriculture industry.
As the demand for enhanced agricultural productivity continues to rise, Super Carbon RX remains at the forefront of providing high-quality fertilizers tailored to meet the specific needs of various crops and soil types. By combining cutting-edge technology, extensive research, and a deep understanding of agricultural practices, the company offers a comprehensive range of specialized fertilizers, enabling farmers to optimize their yields while promoting environmental responsibility.
Super Carbon RX acknowledges the diverse requirements of the agricultural sector, and the team of expert agronomists has meticulously developed a portfolio of fertilizer solutions that address these unique needs. Whether it's improving soil fertility, enhancing nutrient uptake, or mitigating specific nutrient deficiencies, Super Carbon RX has the expertise and products to address each concern effectively.
One of the highlights of Super Carbon RX's fertilizer options is the advanced carbon-rich formulations. Carbon, a vital element for plant growth and soil health, plays a crucial role in improving nutrient retention, water absorption, and soil structure. With the state-of-the-art carbon-based fertilizers, Super Carbon RX offers an innovative solution to replenish and maintain optimal carbon levels in the soil, leading to improved crop growth and resilience.
Furthermore, Super Carbon RX prides itself on its commitment to sustainable agriculture. The company utilizes environmentally friendly production processes, incorporating organic materials and natural additives to minimize the environmental impact. By prioritizing sustainability, Super Carbon RX ensures that farmers not only achieve productivity goals but also contribute to the preservation of the ecosystem.
Super Carbon RX understands the importance of personalized solutions in agriculture, and offers tailored fertilizer programs that cater to specific crop types, soil conditions, and regional requirements. The team of agricultural experts is readily available to provide customized recommendations, empowering farmers to make informed decisions. Through comprehensive soil analysis and ongoing support, Super Carbon RX aims to foster a collaborative partnership with customers, promoting long-term success and mutual growth.
"We are thrilled to announce the availability of our specialized fertilizer options throughout the US," said the CEO at Super Carbon RX. "Our mission is to empower farmers and growers with cutting-edge fertilizers that unlock the true potential of their crops while prioritizing sustainability. With our team of experts and innovative products, we are confident in our ability to drive agricultural productivity to new heights."
Super Carbon RX is also committed to promoting knowledge exchange and professional development in the agriculture industry. In addition to providing top-quality fertilizers, the company hosts educational workshops, seminars, and field demonstrations to equip farmers with the latest research findings and best practices. By fostering a community of learning and collaboration, Super Carbon RX aims to empower farmers with the tools and knowledge necessary for long-term success in a rapidly evolving industry.
With specialized fertilizer options now available throughout the US, Super Carbon RX is poised to revolutionize the agriculture sector. From small-scale operations to large commercial farms, farmers can rely on Super Carbon RX to provide innovative, sustainable, and tailored solutions that deliver exceptional results. For further information about Super Carbon RX and their specialized fertilizer options, please visit their website.
Super Carbon Rx
Super Carbon Rx
+1 972-521-1552
[email protected]
Originally published at https://www.einpresswire.com/article/644504698/specialized-fertilizer-options-available-throughout-the-us