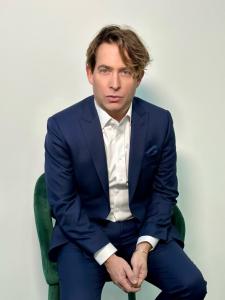 Charlie Walk, Founder of Walk this Way Podcast Talks with Paulie Shore About His Start and Future in Comedy

HOLLYWOOD, CALIFORNIA, UNITED STATES, July 26, 2023/EINPresswire.com/ — Join Charlie Walk as he sits down with legendary comedian Paulie Shore in episode 13 of the podcast, Walk this Way. As one of the most beloved comedians of his time, Shore dives deep into his experience as an MTV star and growing up around some of the biggest names in the comedy industry. But what sets this episode apart is Charlie Walk's unique ability to network and ask the right questions. As a true master of the art, Walk's natural curiosity and enthusiasm shines through as he explores new topics and themes with a fresh perspective in every episode. With his years of experience in the music industry, Walk brings a unique perspective to each conversation, making for a truly one-of-a-kind show that's informative, entertaining, and impossible to resist.
Paulie Shore has had quite the journey to stardom, and his recent reflection with Charlie Walk highlights some of the key moments in his career. While many now recognize him as the voice of Pinocchio in Lionsgate's new movie, Shore's rise to fame dates back to his days as the main act on spring break show Totally Paulie. At the time, MTV had a major impact on teens, and the network launched Shore to household name status. Growing up with comedian parents and attending Beverly Hills High School surrounded by future stars, Shore was no stranger to the scene. He appeared on stage at The Comedy Store when he was just 17 and regularly attended award shows and other major events. According to Walk, the Walk this Way podcast aims to explore each guest's "starship," or God-given DNA that led to their success; for Shore, it seems that comedic talent was simply ingrained in his being.
Charlie then commended Paulie on his one man showand acknowledged the hard work emotions that went into the production. In response, Paulie opened up about the show's exhausting nature, comparing it to "ripping off a band aid." The performance took him back to his childhood and into the passing of his parents, making the entire experience truly draining. While he doesn't plan on doing it forever, Paulie expressed interest in taking the show to Broadway and doing a short run in Vegas. He also mentioned the possibility of turning it into a film or scripted series. It's clear that Paulie's story and life are truly fascinating, as he even has a memoir in the works. It's inspiring to see someone not only make peace with their past, but use it to create something beautiful and powerful.
On this episode of Walk this Way, Paulie Shore opens up like never before, sharing intimate details about his struggles with mental health, his journey as an actor, and what's next for him. It's an enlightening conversation that touches on a wide variety of topics, from the challenges of maintaining one's sanity in the world of show business to the importance of vulnerability in life. One thing is for sure, you won't easily forget the candid moments of this intriguing episode. Whether you're a fan or not, this is one podcast you won't want to miss.
Charlie Walk's name is almost synonymous with success. However, he has recently given us something new to be excited about with his latest podcast, Walk this Way. With every episode, Charlie invites experts from various fields to share their insights and ideas, making each segment an interesting and highly practical treasure trove of information. This particular episode offers a sneak peek at Paulie Shore's comedic genius, while the other 23 episodes feature different stars, industry professionals or entrepreneurs. Charlie keeps his audiences engaged by exploring fresh themes and perspectives, rendering his show both informative and entertaining. His extensive network of contacts and experience make him a key influencer in the podcasting world today. With Charlie Walk's latest venture, you're guaranteed to be in for a real treat. Join Charlie and Paulie on this epic journey through the hilarious world of comedy – https://podcasts.apple.com/us/podcast/comedic-starchip-legendary-comic-actor-pauly-shore/id1630208810?i=1000594016568 your ears will thank you.
Matt Peters
Market Now
+1 973-668-8686
email us here
Originally published at https://www.einpresswire.com/article/646570532/charlie-walk-founder-of-walk-this-way-podcast-talks-with-paulie-shore-about-his-start-and-future-in-comedy