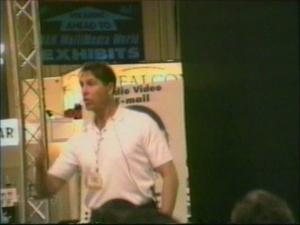 There was a time you could send up to 30 minutes of a private video email without requiring a file download. It was called Video Express Mail.
The most popular app was email. I could make it better!"
— John F Cruz
SALT LAKE CITY, UTAH, UNITED STATES, June 16, 2023/EINPresswire.com/ — The year was 1997. DOT COM was the phrase used to talk about tech companies. The Internet was evolving. Connecting to the Internet required a modem for most home users. Faster connections started to become available, but very expensive. The most popular app on the Internet was email. Pictures were shared as file attachments. However large files still took considerable time to download.
ImageMind was producing spin off APPS that supported video playback for other popular media products like Macromedia Director. ImageMind's flagship product was Video Express Viewer, followed by ImageMind's full screen video screen saver. Video Express Vault did not have market traction as a result of the market conditions.
ImageMind Founder, John F Cruz wanted another product to add to its product inventory. But an alternative strategy would have been to focus on revenue and building a customer base from the market attention that was on Video Express Viewer.
Cruz already had his next innovation in mind. He believed he could take email to the next level by making a system that sends full screen video emails as easy as sending text emails. Cruz knew the ins and outs of streaming technology and envisioned a streaming video email service whereby people could record a private video message, send it to anyone anywhere in the world and there was no downloading a file to play the video. This could change the entire concept of the email industry.
Cruz wrote up the functional specifications and gave it to his lead programmer Craig Johnson. Johnson and Stan Williams designed the internals and started programming. The finished program allowed customers to record then convert a multi stream video file before uploading to the ImageMind's advanced streaming servers.
The Server would then create and send an embedded video email which could expand to full screen viewing. This was an expanded delivery approach from Video Express Vault. However, this video automatically adjust to whatever Internet bandwidth was available while the message was being watched. This gave every recipient the best possible full screen video viewing experience. It was a brilliant piece of programming for the time but still there is only so much you can do with limited Internet bandwidth.
The product name was Video Express Mail. A retail box was designed. The CD-ROM installation included humorous audio and video pre-recorded messages. Cruz then contracted with a software distribution service in New Jersey as ImageMind's sales force. Their job was to get ImageMind products on shelves in stores and bring in revenue. Cruz agreed to an exclusive contract. This distributor later turned out to be a big mistake for ImageMind.
Meanwhile, Microsoft invited Cruz to present Video Express Mail in their booth at COMDEX in Las Vegas. Microsoft's booth attracts a huge number of COMDEX visitors making a perfect product launch opportunity for ImageMind.
ImageMind's Jeremy Gehring worked with a professional media firm to prepare the presentation. A script was developed for a professional speaker. Cruz and his team arrived at COMDEX. However, the professional speaker was a no show. Cruz went to the parking lot, studied the script and returned to delivered the Video Express Mail presentation to a large booth packed with visitors. It was an exciting presentation. Microsoft's booth manager flagged Cruz to keep going over the planned 30-minute schedule due to the large group of enthusiastic spectators.
Overall Cruz delivered another product ahead of its time. But there were two unforeseen obstacles standing in the way of success. First, home users had a slow Internet connection configured to give more bandwidth for downloading files than uploading files. Therefore, some home users had to wait up to 20 minutes to upload to the ImageMind server. Then video conferencing software developed into the next big thing.
However, Cruz's effort did not go without notice. Microsoft had many successful vendor partnerships. But Microsoft commissioned Cruz and his team to create a streaming portal for an upcoming famous implosion. Cruz's effort surpassed Microsoft's expectation.
Look for details in the next episode of The Spirit of Innovation and continue following one man's journey for the American dream. Send us your comments at www.ImageMind.com
Benton
ImageMind
email us here
Visit us on social media:
Facebook


Originally published at https://www.einpresswire.com/article/639811701/episode-9-video-email-no-downloading-the-spirit-of-innovation-one-man-s-journey