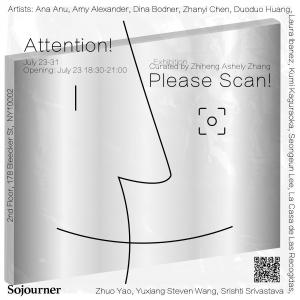 On July 23rd, the exhibition"Attention! Please Scan!" opened at the Sojourner Gallery, curated by Zhiheng Ashely Zhang, showcases 11 contemporary artworks.
NEW YORK, NY, UNITED STATES, August 16, 2023/EINPresswire.com/ — Walking into an exhibition means stepping into a space for social experiences. You anticipate a tangible encounter with artworks and potentially meaningful interactions with fellow audiences. The pandemic has incited the rise of digital art viewing tools and invoked an equally strong response highlighting the irreplaceable social value of physical art spaces.
While the virtual space offers a more accessible channel, the physical space fosters comprehensive, meaningful engagement. As the divide between virtual and physical art spaces becomes more irreconcilable, one exhibition has made a statement of activism to channel the two.
On July 23rd, the interactive art show "Attention! Please Scan!" opened at the Sojourner Gallery, a multi-functional gallery established in 2017 with active participation in the local cultural ecosystem. Unprecedentedly experimental in its approach, the exhibition, curated by Zhiheng Ashely Zhang, showcases 11 contemporary artists' digital works, presenting them in a virtual space that parallels the physical venue.
Unlike traditional art shows, no artwork physically occupies the gallery. Instead, a series of QR codes are scattered across the walls, each accompanied by handwritten questions proposed by the curator and artists. Following these clues, visitors use their phones to scan the codes and embark on a solitary yet entirely autonomous journey of art exploration.
A total of 11 artworks—either created in a digital medium or presented digitally—compose a network that spotlights some of the most pressing social issues in the contemporary world.
Some artists delve into historical narratives that shape today's societal structure. In Zhuo Yao's performance video piece, "Embroider," she collaborates with her grandmother, Zhu Xiaomei, to trigger a visceral experience by applying the traditional Chinese craft to human fingertips. Coming from a family that practices traditional Su embroidery, Yao highlights the fluidity of generational cultural identity. Accompanied by two questions on the wall, the intricate choreography of symbols filters down to its essential core: cultural attachment, a universal sentiment shared by all audiences.
Following the same pattern of QR code access accompanied by prompt questions, more artists are presented. Resonating with the same negotiation between personal identity and a broader social configuration is the work 'Lo que puede un cuerpo' by Chilean artist collective La Casa de Las Recogidas, with artist Cecilia Vicuña. In this work, the collective transforms their performance into a mirror for womanhood in Chile, and invites audiences to rethink the definition of female identity in the context of social construction. Another artist from the collective featured in this exhibition, Laura Ibanez, also uses her digital narrative along with poetry to question the standard of beauty and authentic identity.
Contemporary absurdities are revealed in Duoduo Huang's "No More Figures in Figure Skating" and Seongeun Lee's "One Minute Tour," with Huang targeting figure skating's strict grading system and Lee critiquing the tourism industry's portrayal of utopian mass consumption. Kumi Kaguraoka's "The Metamorphoses of Beautiful Bodies" introduces a futuristic approach, analyzing and deconstructing our formal aesthetics to broaden the definition of beauty.
On the other end of the spectrum, Ana Anu and Yuxiang Steven Wang confront political realities more directly. Through the video essay "Dirt Politic," Anu scrutinizes the erosion of natural land caused by human activities and invites viewers to reflect on our relationship with nature, while Wang's documentary, "American Homeless Project: Jr.," reveals the inner world of a homeless individual during the pandemic period.
Other artists focus on speculations beyond human's current existence. From Amy Alexander's "Deep Hysteria" to Zhanyi Chen's "Astrology Antennas and Artificial Satellite Horoscopes," these artists devote their practice to envisioning a future where AI technology and human intervention shape nature. With extensive research, "Deep Hysteria" creates a confrontational moment between AI and human algorithm bias, reflecting the scientific and empirical explorations echoed by Chen and Kaguraoka.
Postcolonial diaspora, feminine perspectives, labor and crisis in Neo-capitalism, technological explosion, and an accumulating urge for a revolution in human existence. These 11 artists have covered some prominent public issues that occupy our everyday news.
Although the artworks have been presented via a virtual platform for this exhibition, their impact isn't diminished on smaller personal screens. Just as the curator anticipated, the artworks become more digestible as audiences gain more autonomy over how they consume contemporary art and the opportunity to interact with art within the comfort of their devices.
One persistent problem for most digital art exhibits is the unavoidable incomplete experience of the work. Today, aside from some opulently produced screening experiences, few people take the time to watch an entire video, leaving the exhibition's purpose unfulfilled. By offering control over one's viewing pace, these artworks become resources that can be rewatched, studied, and contemplated.
Yet, the full experience of this show goes beyond just scanning artworks. The handwritten questions interplay with the online artworks, reconnecting the physical gallery space with its virtual viewing room. Many visitors during the opening used the questions on the wall as conversation starters or viewing guides.
The exhibition doesn't dictate a specific order for viewing the art, leading to spontaneous discussions as visitors navigate the gallery. It was a decoding process that fused with bewilderedness, excitement, and wonder of discoveries. As bustling as any art exhibition opening, this one sees visitors spend more time moving back and forth together.
"This is an experiment, a form of activism, and an endeavor to explore something new." Curator Zhiheng Ashely Zhang explained, repeating the opening statement of the exhibition when asked about her intent.
Indeed, jet black ink on the chalk-white wall unifies a visual spectacle, setting off an immersive environment for an intellectual playground and activistic statement. Zhang designed a game in which she uses condensed content and minimalistic form to reconstruct an art space that enhances meaningful communication. Rather than simply an interactive show, this exhibition is more of an avant-garde live event. By maximizing the space through a virtual extension, the gallery can accommodate more pieces than it typically could. The invoked conversations from this game play a role in audience engagement and education. Judging by the audience's reactions at the opening, the catalyst seems to have worked effectively.
The concept of this show has been incubated throughout the past 2 years. As remote lifestyles have changed how contemporary art can be consumed, physical exhibition spaces face significant challenges to draw audiences. During this pivotal time, two major changes prompted Zhang to the show: the widespread adoption of QR codes in all aspects of public life, including art exhibition spaces, and an industry-wide brainstorm on the indispensability of physical art spaces, which eventually recognized their essential social function.
In response to these changes, Zhang decided to leverage the ubiquitous presence of QR codes to provide a comfortable art-viewing zone for the general public. Believing firmly in the indispensability of physical spaces, Zhang took a risk by removing all visual artwork from the gallery to focus purely on conceptual representation. Given that neither physical nor virtual spaces can entirely satisfy viewers—the former serving social needs and the latter viewing needs—Zhang decided to marry the two, resulting in the unique form of the exhibition.
Influenced by Peggy Guggenheim, Harald Szeemann, and Pontus Hultén, who consistently experimented with their curation projects, Zhang has centered her curation approach on avant-garde movements and public engagement. Her goal is to engage the art community and attract diverse audiences without art backgrounds. Audience feedback plays a significant role in her evaluation of the exhibition's success, and a single positive comment like, "This is an intellectual exhibition that takes her to the stage of zen" at the opening could easily make her day.
At the moment, Zhang has spotted a need for a public audience to engage with contemporary art and a need to diversify how contemporary art could be accessed in their social lives. Through a combination of two spaces and her radical curation plan, she does not simply wants to create a show that uses digital medium but to reshape the communication mode of a live exhibition through radical treatment of style and medium. Luckily, all her artists are on board to take part in this activism.
"Avant-garde is always in revolution, along with the evolution of new technology and human needs reflected through these technologies." How will the presentation of digital art evolve in the future? How effectively can an art exhibition invoke meaningful social interaction between its audiences? We might not have an answer. I guess the lively scene at the opening has given us a hopeful result.
Written by Yunyi Vanessa Yang
Exhibition Details:
Title: Attention! Please Scan!
Location: Sojourner Gallery, 178 Bleecker St, New York, NY 10002
Time: July. 23-31
Curator: Zhiheng Ashely Zhang


Featured Artists:
Ana Anu
Amy Alexander
Dina Bodner
Zhanyi Chen
Duoduo Huang
Laura Ibanez
Kumi Kaguraoka
Seongeun Lee
La Casa de Las Recogidas
Srishti Srivastav
Yuxiang Steven Wang
Zhuo Yao

Producer: Zona Yuechen Guan

Exhibition Executive: Chunchun Tao

Curatorial Assistants: Suchen Wang, He Zhou

Zhiheng Ashely Zhang
Sojourner Gallery
email us here
Originally published at https://www.einpresswire.com/article/650136938/experiment-for-art-engagement-attention-please-scan-an-exhibition-resides-on-qr-codes-to-channel-virtual-physical