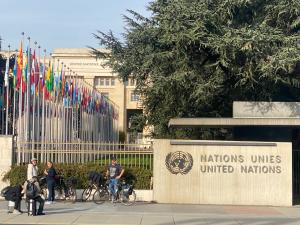 Sex Offender Residency Restrictions (SORRs) Remove Basic Human Rights and Increase Homelessness
BONYTON BEACH, FL, UNITED STATES, October 18, 2023 /EINPresswire.com/ — On Monday, October 16, 2023, Florida Action Committee President Gail Colletta addressed the United Nations Human Rights Committee in Geneva, Switzerland. The Florida Action Committee (FAC) is a non-profit organization located in Florida that supports commonsense legislation based on empirical evidence to make communities safer. Speaking at the United Nations, Colletta explained the many devastating impacts which sex offender residency restrictions have on families, communities, and society.
Colletta informed the United Nations Human Rights Committee that U.S. federal law requires each of the 50 states to have its own sex offender registry. However, despite the fact that federal law does not limit where persons required to register can live, states (including their counties and municipalities) have been increasingly imposing housing restrictions on persons required to register.
While addressing the United Nations committee, Colletta shared the case of a 71 year old man who had been diagnosed with cancer while being rendered homeless by Florida's sex offender residency restrictions. The elderly Floridan's physicians could not perform the surgery required to save his life until he could find a safe place to recover after the operation. However, because of the state's sex offender residency restrictions and the exclusion zones they create, the county sheriff's office refused to allow the man to enter a rehabilitation center, an assisted living facility, a shelter, or even his sister's home. The man was tragically killed by a driver who struck him and then fled the scene, allowing him to die on the street. Colletta noted that a man so old, sick, and frail should not have been forced into homelessness by the state, particularly when his family could have taken care of him in their home. Colletta further explained to the committee that this man's case is not an isolated one.
Colletta told the committee that there is no empirical evidence to support the effectiveness of sex offender residency restrictions in reducing sexual offending or recidivism. On the contrary, numerous published studies, including some by the United States Department of Justice, have shown that such restrictions create barriers to a former offender's stability and successful reentry to society.
In her closing remarks, Colletta emphasized to the United Nations committee that sex offender residency restrictions and the entire sex offender registry scheme in the United States represent a colossal failure of policy. Nevertheless, the United States government continues to promote such policies and even pressures other countries to adopt them. Colletta pointed out that sex offender residency restrictions violate multiple human rights which the United States has promised to uphold in treaties it has ratified and constitute a cruel and inhumane system that forces human beings to live without dignity.
Colletta urged the committee to hold the United States government accountable by condemning and eliminating all sex offender residency restrictions in the United States due to their severe, often lifelong impacts on individuals' rights to humane housing and stability.
Gail Colletta
Florida Action Committee (FAC)
+1 833-273-7325
[email protected]
Visit us on social media:
Facebook
Twitter
YouTube
Other
FAC Pres speaks at United Nations about Sex Offender Residency Restrictions (SORRs)


Originally published at https://www.einpresswire.com/article/662730534/florida-action-committee-president-addresses-sex-offender-housing-crisis-with-united-nations-committee