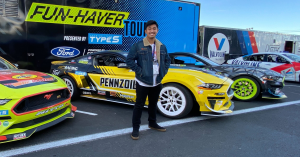 Together with Founder Gabe Carey, Jaleco Aims to Bridge the Gap Between Internal Combustion Engines and the Cars of the Future
NEW YORK, UNITED STATES, September 27, 2023 /EINPresswire.com/ — Formed in April 2023, Acceleramota LLC originated as a side project from digital media maven Gabe Carey after launching NYCars & Coffee, a weekly car meet held in the outer boroughs of New York City. Host to a growing number of editorial features, buying guides, news stories, and reviews, the Acceleramota namesake represents the company's digital media arm.
With more than 40,000 social media followers on Instagram and TikTok, a steadily growing newsletter list, and an exclusive partnership deal with CarGurus, Acceleramota strives to demystify vehicle electrification and other fossil fuel alternatives that have emerged in the face of climate change. At the same time, Acceleramota celebrates the positive aspects of car culture, such as fostering community, inviting casual drivers researching their next ride into the next generation of enthusiasts.
Jaleco, despite a relatively fresh career in the automotive journalism field, has earned a glowing reputation for his sharp reporting chops, a voice that's distinctly entertaining yet informative, and a keen eye for exceptional storytelling. Prior to joining Acceleramota, he was a contributor at Recurrent Ventures' The Drive as well as Jeremy Clarkson's DriveTribe. Jaleco was also a staff writer at Valnet's HotCars.
"Since June, I've been working with Gabe and his passionate team, some familiar faces and others new, with the aim of taking this lovely little startup sky high, with a voice and spirit that no AI can match, ChatGPT be damned!" said Jaleco. "Now, I begin anew once more as Co-Owner and Editor-in-Chief, working side-by-side with Gabe as we prepare to take our rapidly growing publication to the next level, and the level after that."
Jaleco started as a freelance writer for Acceleramota.com in June 2023. From the outset, he proposed high-impact creative strategies, one of which produced his EVs Explained column, where he breaks down complex e-mobility topics, simplifying unfamiliar terminology for a mainstream audience. As Editor-in-Chief, Jaleco seeks to diversify Acceleramota's talent pool, fostering an environment that plays to each team member's unique strengths.
"Acceleramota's official slogan is 'The Internet's Cars and Coffee'. While that tagline was my idea, in some ways Jeric understands its meaning better than I do," Carey said. "As other publishers sack their news desks in favor of AI chatbots, we're here to tell human stories as only skilled journalists can, incorporating our own personal experiences and insights into everything we do. With that in mind, Jeric is the quintessential person for the role of Editor-in-Chief."
About Acceleramota:
Acceleramota LLC is a digital media and events startup founded by Gabe Carey, who currently serves as its CEO. Previously, Carey led commerce content and strategy at G/O Media, the parent company of Gizmodo, Jalopnik, and The Onion. He later served as Editor-in-Chief at The Inventory and its Kinja Deals vertical. In 2021, he was hired by StackCommerce to establish a third-party affiliate marketing service for publishers including Entrepreneur and New York Post. Carey began his career as a tech reporter for Digital Trends, TechRadar, and PCMag.
Contacts:
Gabe Carey, Founder and CEO

[email protected]
Jeric Jaleco, Editor-in-Chief

[email protected]
Gabe Carey
Acceleramota LLC
[email protected]
Visit us on social media:
Facebook
Twitter
LinkedIn
Instagram
YouTube
TikTok
Other


Originally published at https://www.einpresswire.com/article/658013538/former-drivetribe-writer-jeric-jaleco-named-acceleramota-editor-in-chief