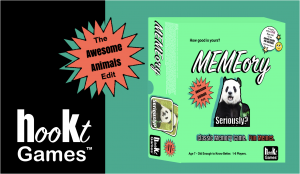 Available on Kickstarter.com until Friday, September 29th, noon EST. Limited quantities.
CINCINNATI, OHIO, USA, September 27, 2023 /EINPresswire.com/ — MEMEory is the first launch for start-up company Hookt Games. Although the company describes itself as "we", it is owned and operated by one person, a mom, working from her kitchen table in Ohio, with the help of a lot of online tutorials, and the occasional takeout meal. The "we" refers to her three kids who are a key source of inspiration for the project.
The game is a simple memory matching game that taps the "animals of Instagram" and "animals of TikTok" world of cute animals, and fun memes and expressions.  The meme cards consist of simple, one-word expressions of enthusiasm plus some longer, light-hearted, family-friendly phrases. They have added a "comeback card" feature to the rules to inject some more gameplay interest and strategy for those who want it.
The game is easy to play; difficult to win. Young children are surprisingly good at it! Hookt Games are recommending age 7 to old-enough-to-know-better based on the need to read in order to appreciate the meme element (not just to spare you the embarrassment of being defeated by a three year old), but it can be played and enjoyed by almost all ages.
Budget constraints mean that the artwork and video were done in-house (as in quite literally at the kitchen table). The packaging and cards were designed entirely in Keynote (yes, the presentation software), using licensed stock imagery from iStock. The video was made using a subscription to Filmora software (with some sections animated in – you guessed it – Keynote). The music is licensed from Envato Elements. The company states that they might have gone a bit overboard with the special effects, but hope that you enjoy them… or at least forgive them.
MEMEory debuted on Kickstarter on August 30th and is available to pre-order until Friday, September 29th at noon EST.  Quantities are limited, and delivery is to addresses in the US. Besides the game itself, there is a variety of rewards to choose from including stickers, key chains and apparel. Kickstarter is an all-or-nothing platform and backers are not charged unless a project meets its funding target. 
The project is being supported across a variety of social media platforms under the handle @hooktgames. The company invites anyone who is interested in the game and the company to follow them on social media for the latest product news and updates.
Lesley Pritchard
Hookt Games
[email protected]
Visit us on social media:
Facebook
Twitter
LinkedIn
Instagram
YouTube
TikTok
Other
Some Things Just Take You by Surprise – Like MEMEory from Hookt Games


Originally published at https://www.einpresswire.com/article/657957929/from-kitchen-table-to-kickstarter-hookt-games-cooks-up-new-game-memeory-between-meals