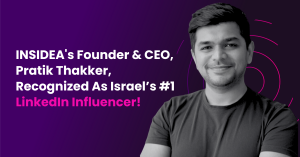 INSIDEA's Founder and CEO, Pratik Thakker, has been featured as Israel's #1 LinkedIn influencer in one of the editions of ScoopEarth.
LinkedIn has been an incredible journey for me, though it came with its fair share of challenges. But I didn't let that stop me! I shared authentic experiences, and slowly, my community grew."
— Pratik Thakker, Founder and CEO at INSIDEA
TEL AVIV, ISRAEL, August 4, 2023/EINPresswire.com/ — Pratik Thakker, the Founder and CEO of INSIDEA, has achieved a remarkable feat by being recognized as Israel's #1 LinkedIn Influencer in a recent feature by ScoopEarth. Overcoming initial challenges and building a loyal following of over 200,000 followers, Pratik's journey from a single like on his posts to becoming a thought leader in the industry is truly inspiring.
In the beginning, Pratik found it challenging to get engagement on his posts. But he did not give up. He firmly decided to post every day on LinkedIn for 1000 days. His determination, consistency, and valuable content are the reasons he amassed a loyal community of followers eagerly waiting for his posts.
"I am really grateful for all the support I received on LinkedIn. From receiving a single like from my wife to lakhs of followers, it feels like just yesterday when I had only a couple of followers, and now, I'm here – living the dream life!" shared Pratik with a smile.
Now, as a LinkedIn influencer, he shares valuable insights on startups, marketing, leadership, and the future of work, connecting with professionals worldwide.
Pratik's widely acclaimed newsletter, 'Future of Work,' further solidified his position as a thought leader and proved his expertise in navigating the changing nature of work. He is now acclaimed as one of the opinion leaders in the industry – providing strategies and trends for professionals to adopt.
In this context, he said, "It's all about being authentic, sharing valuable insights, and connecting with like-minded individuals. From small beginnings to becoming Israel's top LinkedIn influencer, it's a reminder that genuine connections can lead to remarkable opportunities."
This is not the first time that Pratik has been recognized for his impact on LinkedIn. He was previously ranked among the Top 100 Global LinkedIn Influencers, Top 50 Emerging LinkedIn Influencers, and Top 20 Emerging LinkedIn Influencers.
Besides LinkedIn, Pratik has also received honors as an entrepreneur. He has made an appearance twice as a TEDx speaker and has also been listed in the Times 40 Under 40 list for his entrepreneurial and leadership skills.
Pratik Thakker's journey of becoming Israel's #1 LinkedIn Influencer shows the importance of authenticity, perseverance, and genuine connections. His impact on LinkedIn and the business world at large is awe-inspiring, and his dedication to shaping the future of work is paving the way for professionals to embrace new opportunities. As he continues to influence and inspire, Pratik's story reminds us that remarkable possibilities await those who approach their passion with determination and authenticity.
Nancy Pezarkar
INSIDEA
email us here
Visit us on social media:
Facebook
Twitter
LinkedIn
Instagram
YouTube


Originally published at https://www.einpresswire.com/article/648164489/insidea-s-founder-ceo-pratik-thakker-recognized-as-israel-s-1-linkedin-influencer