"For Once in My Life — The Songs of Ron Miller" Premieres at 54 Below in NYC October 8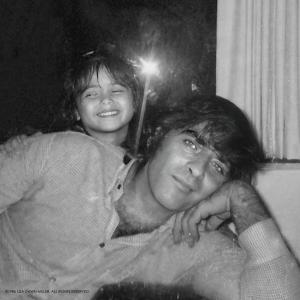 Legendary songwriter Ron Miller and his daughter, Lisa Dawn Miller
Forging ahead with her own original songs, Lisa Dawn Miller continues to honor the legacy of her father, legendary songwriter Ron Miller
I think people assume everyone knows who my father is because his hit song catalogue speaks for itself, but it takes years to build a brand no matter how successful the songs."
— Lisa Dawn Miller
LOS ANGELES, CA, USA, September 15, 2023/EINPresswire.com/ — Los Angeles, CA) September 15, 2023 – Singer, songwriter, and producer Lisa Dawn Miller releases her second single in two months "Rhythm of Me," another original Pop/R&B recording following-up her debut single "I Need Your Love," and prepares for her performance in "For Once in My Life – The Songs of Ron Miller," her new show premiering October 8 at 54 Below in New York City.
The daughter of iconic songwriter Ron Miller, who, in addition to being known for penning timeless classics like "For Once in My Life," wrote some of Motown Record's biggest hits such as "Touch Me in the Morning," "Heaven Help Us All," "A Place in the Sun," "Yester-me, Yester-you, Yesterday," "I've Never Been to Me," "Someday at Christmas," "If I Could," and many more. For many years, Lisa researched, organized, and passionately fought for, and won, the rights to his intellectual properties for her family, which had been assigned away under adverse terms decades ago. Now managing his vast legacy song catalogue, which is administered by Sony Music Publishing under an exciting new deal she put together in 2022, she begins the journey of sharing her father's incredible story by celebrating his music with the launch of her new show.
"Rhythm of Me" showcases Lisa's exceptional vocal and songwriting talents, delivering a sexy, smooth, melodic tune combined with beautiful harmony arrangements and provocative, captivating lyrics.
"I wrote and recorded 'Rhythm of Me' in 2020 during the pandemic, so I had to learn how to track my own vocals," says Lisa. "My incredibly talented son, Oliver Richman, helped by writing the vocal arrangements, harmonies and background parts for me and I mixed the record with the amazing Paul J. Falcone online while he was in New York, and I was in L.A. In addition to my own music releases, I'm excited to start sharing more of my dad's music with the world and have several projects slated, including the new show, which, in addition to premiering at 54 Below in New York, I'm also showcasing at Midwest Arts in Indianapolis. I also have a new Broadway show in development plus multiple new recordings scheduled for release next year."
Lisa produces the critically acclaimed hit musical, "Sandy Hackett's Rat Pack," currently celebrating its impressive 14th season. In addition to producing, Lisa portrays "Frank's One Love" in the production in which she has been sharing unreleased songs from her father's catalogue with fans around the globe for over 14 years to further cement his legacy."
"I think people assume everyone knows who my father is because his hit song catalogue speaks for itself, but it takes years to build a brand no matter how successful the songs. People don't associate my father's name with the songs he wrote. It's my goal to make sure they know and can enjoy not only the songs they've loved throughout the decades, but also the 400 songs they haven't heard yet. I'm 16 years into this journey and it's only now, I can begin to share his story."
Visit Lisa's official website at https://lisadawnmiller.com and her music publishing company's site at https://ldmworld.com. To learn more about Lisa's new show celebrating her father's music, visit https://foronceinmylife.com/. For tickets to her new show, go to: https://54below.org/events/for-once-in-my-life-the-songs-of-ron-miller/
Chrissy Mrowczynski
CAS Public Relations
+1 703-505-0207
email us here
Visit us on social media:
Facebook
LinkedIn
YouTube
Other
Lisa Dawn Miller Live in Stevie Wonder's Concert, House Full of Toys
Originally published at https://www.einpresswire.com/article/655786981/lisa-dawn-miller-releases-new-single-rhythm-of-me-premieres-for-once-in-my-life-the-songs-of-ron-miller-in-ny