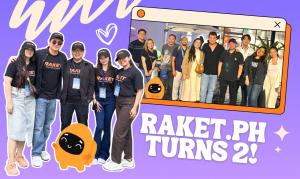 Discover how Raket.PH connects talented individuals with exciting opportunities, creating a thriving community of over 22,000 Raketeers for 2 years.
ANGELES CITY, PAMPANGA, PHILIPPINES, October 27, 2023 /EINPresswire.com/ — Raket.PH, the Philippines' largest independent talent marketplace, is proud to mark its 2nd-year anniversary by unveiling a range of new updates and features. Since its inception in 2021, Raket.PH has been instrumental in revolutionizing the digital landscape, connecting talented individuals with rewarding opportunities.
With a vision to empower creators to earn from home, Raket.PH has grown from a simple idea to a thriving platform that brings together independent professionals and clients seamlessly. By providing a transparent and user-friendly interface, Raket.PH has successfully bridged the gap between highly skilled Filipinos and legitimate work opportunities.
Peng Enriquez, one of the CEOs of Raket.PH, shared the motivation behind the platform's creation: "When we started Raket, our main motivation was to provide Filipinos with an easy platform to find work and showcase their talents, while also ensuring that clients have access to a large pool of talented Filipino independents to get their projects done on time and within budget. As entrepreneurs ourselves, we saw how difficult it was to find the right talents for various jobs. At the same time, highly skilled Filipinos struggled to find legitimate work opportunities. We wanted to bridge this gap using technology. By building an online marketplace focused on transparency, payment protection, and an easy-to-use interface for both clients and Raketeers, we believed we could help unlock the potential of the Philippine freelancing industry. It has been incredibly fulfilling to see thousands of Filipino talents get well-paid jobs and be inspired by the testimonials of our Raketeers through Raket over the years. This success has motivated our whole team to continuously innovate, improve, and expand our service offerings to support even more Filipino independents. As long as there is a need for our platform, we are committed to developing Raket into a trusted and largest independent talent marketplace in the country."
Raket.PH distinguishes itself through its unwavering dedication to its users, providing support to both job seekers and those in need of top-notch talent. Trust, transparency, and success are at the core of Raket.PH's values, recognizing that being an independent professional is not just a gig but a whole lifestyle. The platform offers an extensive range of categories, including programming and tech, graphics and design, writing and translation, and more, catering to professionals from various fields.
The 2nd anniversary of Raket.PH comes with exciting updates and features that further enhance the user experience:
FREE customizable portfolio and online shop

Sell services and digital products (ebooks, Canva templates, icons, etc.)

Sell physical products (merchandise)

Service and product marketplace

Job board

One-click checkout with Escrow protection

Built-in chat for client collaboration

Order management

Potential client discovery

No code or app required
These new features make it easier than ever for professionals to find jobs, connect with clients, and sell their services and products. Raket.PH provides a seamless experience with slick functions and hassle-free payment processes, ensuring a smooth journey for all users.
Carlet Enriquez, another CEO of Raket.PH, expressed pride in the platform's key milestones and achievements: "As we celebrate Raket.PH's 2nd anniversary, there are several accomplishments that make us happy and proud. Our Raketeer community has grown significantly, with over 22,000 talented independents joining our platform. We have successfully completed over 300 orders, demonstrating our ability to deliver high-quality work on time and within budget. Our job board has provided over 1200 job opportunities for remote, flexible, and work-from-home positions. Positive reviews and testimonials from our clients and Raketeers have helped us build trust and credibility in the industry. We have also collaborated with other platforms and companies to expand our reach and offer more services and work opportunities. We are committed to continuous improvement to meet the changing needs of our community."
BusinessKits, a satisfied user of Raket.PH, shared their experience: "We got everything we asked for and more with Raket.PH! We added the link to our Facebook bio, and we now receive sales passively. Kudos to the team for constantly updating the platform, having a friendly support team, and building this great community!"
Raket.PH is just getting started and remains dedicated to constant growth and improvement. The platform has achieved remarkable milestones in its two years of existence, thanks to the hard work and dedication of its team and the support of its community of Raketeers.
As Raket.PH raises a toast to its 2nd anniversary, CEO Juan Karlos Labajo expressed gratitude and excitement for the future: "I'm really proud of all the things we have accomplished thus far. It's fascinating to witness not just the growth of Raket.PH but also the team that has put a lot of their creativity and efforts into making us reach where we are today. To our Raketeers, thank you for believing in us. We have amazing ideas and plans in store for you in the coming year!"
Raket.PH extends its heartfelt thanks to its community of Raketeers, whose support has been instrumental in the platform's success. The journey continues, and Raket.PH invites everyone to stay tuned for more features and services in the upcoming years.
Miko Canosa
The Rocket Inc.
[email protected]
Visit us on social media:
Facebook
Twitter
LinkedIn
Instagram
YouTube
TikTok


Originally published at https://www.einpresswire.com/article/664505421/raket-ph-celebrates-2nd-anniversary-with-exciting-updates-and-achievements