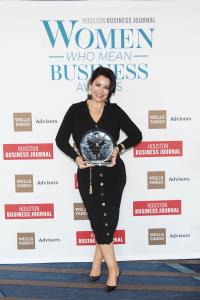 Recognizing Houston's Top Female Leaders at the "Women Who Mean Business" Awards
We are immensely proud to honor LuzElena Rivers as a trailblazer in healthcare."
— HBJ
HOUSTON, TEXAS, UNITED STATES, October 18, 2023 /EINPresswire.com/ — The Houston Business Journal recently announced the honorees for the esteemed "2023 Women Who Mean Business Awards", recognizing exceptional women in leadership positions who have demonstrated excellence in their careers and communities. Among these outstanding individuals, LuzElena Rivers stands out as a prominent figure, serving as President and CEO of Amera Solutions.
The Women Who Mean Business awards celebrate extraordinary women leaders across various industries, with this year's focus on the Health Care sector, highlighting the important role that women play in shaping this field.
We are thrilled to introduce HBJ's 2023 Women Who Mean Business honorees:
• LuzElena Rivers — Amera Solutions
• Raushida Robinson — Boys and Girls Club of Greater Houston
• Cory Roclawski — Kodiak Gas Services
• Kelley Rodriguez — Love Advertising
• Marisa Rodriguez — Indi Construction Partners LLC
• Roberta Schwartz — Houston Methodist Hospital
• Denise Scofield — Winston & Strawn
• Jody Sergi — Kirksey Architecture
• Lucy Singh — Dhanani Private Equity Group
• Gabriela Smith — Big State Construction
• Gail Stalarow — Morgan Stanley
• Amalia Stanton — Memorial Hermann Health System
• Andrea Steel — Frost Brown Todd LLP
• Jane Stricker — Greater Houston Partnership
• Julie Strittmatter — St. Luke's Health
• Vivian Tat — The University of Texas Medical Branch / Taking Our Best Shot
• Steffie Tomson — Getaway Sticks
• Karen Trotter — Bayou City Hemp Co.
• Caroline Verot Moore — Amerant Bank
• Margaret Wallace Brown — City of Houston
• DeAndrea Washington — Spencer Fane LLP
• Micki Washington — HOK
• Mallory Wendel Peterson — University of St. Thomas
• Shayla White Bowden — GHWCC Women's Business Center
• Kelly Whitley — Murphy Oil Corp.
• Laura Whitley — Laura Whitley
• Emily Wilcox — The Wilcox Group
• Helene Zadok — Zadok Jewlers
• Kim Abrego — Disaster Recovery Services
• Shellye Arnold — Memorial Park Conservancy
• Shannon Bedinger — Parkway
• Donna Beecroft — Memorial Hermann Northeast
• Jamie Belinne — University of Houston, C.T. Bauer College of Business
• Rebecca Block — Outreach Strategists LLC
• Kerri Brady — Huckabee
• Heather Brown — Bracewell LLP
• Amber Burda — Houston Livestock Show and Rodeo
• Amber Burton Alfred — Houston Association of Realtors
• Marian Cabanillas — UnitedHealthcare Community Plan
• Angela Carranza — Fresh Arts
• Elizabeth Cleveland Wakefield — Fragomen, Del Rey, Bernsen, & Loewy
• Kimberly Cunningham — Exxon Mobil Corp.
• Casey Curry — Alliantgroup
• Danielle Davis — JPMorgan Chase & Co.
• April Day — Women's Business Enterprise Alliance
• Ashley Dedmon — American Cancer Society
• Molly Determan — Energy Workforce & Technology Council
• Molly Dill — Houston Grand Opera
• Renee' Downey — ARCA Coca-Cola Southwest Beverages
• Kaitlyn Faucett Revisore — Lightfoot, Franklin & White LLC
• Amanda Fenwick — San Jacinto College
• Helena Finley — Vero Sade
• Tatiana Fofanova — Koda Health
• Mia Garcia — Combined Arms
• Alicia Gilpin — Rise Wellness Group
• Lauri Goodman Lamspon — PDR Corp.
• Brooke Grammier — CannonDesign
• Jana Grauberger — Liskow & Lewis
• Michelle Gray — Fogler, Brar, O'Neil and Gray LLP
• Lilac Guzman — GasTech Engineering
• Katherine Hargis — Key Energy Services Inc.
• Brandi Harleaux — South Post Oak Recycling Center
• Jane Johnson — Setpoint Integrated Solutions
• Donna Josephson — Shipley Do-Nuts
• Martye Kendrick — Greenberg Traurig LLP
• Brandi Key — Five 12 Restaurant Concepts
• Monica Krishnan — Chevron
• Leigh Landry — Murphy Exploration and Production Co.
• Alecia Lawyer — ROCO
• Melanie Lowther — Taurus Vascular
• Valerie Maher — U.S. Small Business Administration
• Cindy Matherne Muller — Jones Walker LLP
• Allison McFarlane — Allison McFarlane Inc.
• Deviyani Misra-Godwin — SCF Partners
• Thy Mitchell — Traveler's Table
• Jessica Monford — Moss Adams
• Rosanna Morris — The University of Texas MD Anderson Cancer Center
• Sheroo Mukhtiar — SerJobs
• Ruby Munoz Dang — Garcia Hamilton & Associates LP
Check full list here: https://www.bizjournals.com/houston/c/women-who-mean-business-2023/20275/luzelena-rivers-amera-solutions.html
These remarkable professionals are distinguished leaders in their respective fields, showcasing unwavering dedication and visionary leadership. Notably, LuzElena Rivers has made significant contributions through her role as President and CEO of Amera Solutions. Her pioneering initiatives have not only fostered business growth but also positively impacted numerous lives within the community.
According to Publisher John Beddow at Houston Business Journal: "Our selection criteria emphasized career achievements, contributions to companies and cities' success, community involvement, and exceptional leadership qualities." We take great pride in honoring trailblazers like LuzElena Rivers who exemplify excellence, innovation, and community engagement. Her remarkable accomplishments serve as an inspiring example for aspiring professionals and established leaders alike.
The highly anticipated "Women Who Mean Business" awards ceremony took place on October 13th from 11 a.m. to 2 p.m., hosted at the prestigious Marriott Marquis Houston. This event brought together influential figures, business luminaries, and dedicated community supporters who wholeheartedly recognized the immense contributions made by these exceptional women.
About LuzElena Rivers: LuzElena Rivers is the President and CEO of Amera Solutions, a distinguished entity within the healthcare sector. With an illustrious career marked by innovation and compassion. She has consistently demonstrated her commitment to enhancing healthcare services and making a positive impact on day surgery transportation.
Francis Recana| Marketing Communications
Amera
email us here
Visit us on social media:
Facebook
Twitter
LinkedIn
Instagram


Originally published at https://www.einpresswire.com/article/661872904/women-who-mean-business-honoree-announcement-by-houston-business-journal