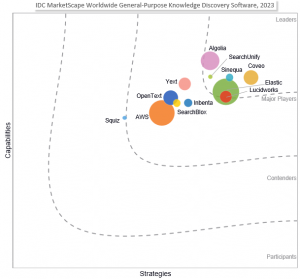 MOUNTAIN VIEW, CALIFORNIA, UNITED STATES OF AMERICA, October 17, 2023 /EINPresswire.com/ — SearchUnify, a leading unified cognitive search platform, is pleased to announce that it has been named a Leader in the IDC MarketScape: Worldwide General-Purpose Knowledge Discovery Software 2023 Vendor Assessment (doc #US49988523, October 2023).
The IDC MarketScape assessment highlights several key strengths of SearchUnify, including:
– Customer support and satisfaction: SearchUnify's customers rated it highly on customer support and ease of use, particularly for low-code/no-code tools designed for non-developers. Customers feel that SearchUnify is a strong partner, working with them on customizations and other requests, allowing customers to add their own branding to the end UI.

– Strong start in generative AI: SearchUnify has been one of the earlier search and knowledge discovery vendors to put robust generative AI features into GA production for its customers. The company provides a relatively flexible framework in terms of the variety of LLMs it can work with, along with its own fine-tuned versions for customers' specific needs, and its FRAG approach allows customers to leverage RAG beyond a single index.

"In recent years, IDC has seen advances in AI result in significant improvements to commercial search offerings, and the rapid adoption of generative AI shows that this market is well positioned for growth and innovation," said Hayley Sutherland, Research Manager, Knowledge Discovery and Conversational AI at IDC. "SearchUnify is using a combination of well-established search techniques and cutting-edge technologies to provide AI-powered search and knowledge discovery for its clients," she further added.
"LLM-powered enterprise search has ushered in a new era of information retrieval. However, challenges like accuracy, difficulty in grasping contextual nuances, hallucination, and others stand in the way of seamless user experiences. That's what inspired us to come up with a cutting-edge approach—SearchUnifyFRAGTM. When integrated with the enterprise search engine, it retrieves best-fit snippets from multiple repositories, and then passes to the LLM to provide context-aware, personalized, and factually correct results," said Vishal Sharma, CTO, SearchUnify. "We are delighted to be named as a Leader in 2023 IDC MarketScape as we believe it is a testament to our commitment to continuous innovation and transforming the enterprise search landscape."
Alok Ramsisaria, CEO, Grazitti Interactive (SearchUnify's parent company) stated, "Modern businesses are in a race to adopt LLMs to streamline their customer interactions. SearchUnify takes it to the next level with its breakthrough developments, allowing enterprises to unlock the full potential of LLMs in a secure, contextual, and intent-driven manner. We are glad to progress in the innovative direction and receive positive remarks from our esteemed customers. Being recognized as a Leader in the prestigious IDC MarketScape Study further motivates us to continually improve and provide transformative knowledge discovery experiences."
About IDC MarketScape

IDC MarketScape vendor assessment model is designed to provide an overview of the competitive fitness of ICT (information and communications technology) suppliers in a given market. The research methodology utilizes a rigorous scoring methodology based on both qualitative and quantitative criteria that results in a single graphical illustration of each vendor's position within a given market. IDC MarketScape provides a clear framework in which the product and service offerings, capabilities and strategies, and current and future market success factors of IT and telecommunications vendors can be meaningfully compared. The framework also provides technology buyers with a 360-degree assessment of the strengths and weaknesses of current and prospective vendors.
About SearchUnify

SearchUnify is a unified cognitive platform, by Grazitti Interactive, and is built on a machine learning and insights engine. The platform boasts a suite of AI-powered products, including Cognitive Search, SUVA (the World's First Federated, Information Retrieval Augmented Virtual Assistant for Fine-tuned, Contextual, and Intent-driven Conversational Experiences at Scale), Agent Helper, Knowbler (the World's First Knowledge-centered Customer Service Software), Escalation Predictor, and Community Helper. Leading enterprises globally rely on SearchUnify for revolutionizing information discovery and elevating support outcomes.
Aanchal Dhar
Grazitti Interactive
+91 99717 92787
email us here
Originally published at https://www.einpresswire.com/article/662062020/searchunify-named-a-leader-in-2023-idc-marketscape-for-worldwide-general-purpose-knowledge-discovery-software