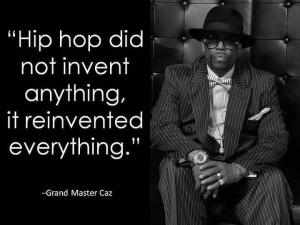 Rapper's Delight Grandmaster Caz, reinvents again since the mid 1970s, as the first star of 50 Years Hip Hop Meets R&B and Jazz, also supporting Green Campaigns' Guns for Grant College Scholarships celebrity appearance.
Nov. 3, 2023, 6-11 pm, at Actors Temple Theatre, Rapper's Delight Grandmaster Caz as
Assoc.Prod./Star of 50 Years of Hip Hop Meets R&B and Jazz Unity Fest
Hip Hop Didn't Invent the Music, Hip Hop Reinvented the Music"
— Grandmaster Caz
NEW YORK, NEW YORK, UNITED STATES, November 5, 2023 /EINPresswire.com/ — People began arriving early to enjoy the first 50 Years of Hip Hop Meets R&B Meets Jazz's Music Unity Fest's associate producer and the iconic Rapper's Delight star Curtis Brown, aka Grandmaster Caz who indelibly penned Hip Hop's first Top 40 hit record, Rolling Stones Magazine rated him #251 among #500 Best Records of All Time.
Complex Magazine voted Grandmaster Caz as the Greatest Emcee since 1979. Blaze Magazine voted Grandmaster Caz as the 11th Greatest Emcee of All Time, is the associate producer and star of 50 Years of Hip Hop Meets R&B meets Jazz Unity Fest at Actors Temple, 339 West 47th Street, Manhattan, NY.
In an era where youth gun violence has escalated, nationwide, Caz's generous appearance, is as the first Iconic Hip Hop Pioneer supporting Raschid Littlejohn's of Brooklyn, Green Campaign's Guns for Grants non-profits respected NYC College scholarships for vetted, mentored and tutored students dropping off guns.
In 1981, aka Casanova Fly, was Captain of the Coldcrush Brothers group that morphed as a top Hip Hop group, upon recording their "Weekend" single on Elite Records. Coldcrush's meteoric rise continued with their "Wildstyle" Hip Hop culture film roles and their performances introduced Hip Hop to Japan.
Grandmaster Caz, will autograph limited copies of "Written" his lyrical book, some which might include those since he was 14 years old, when his prolific writing and rapping began. He's Zulu Nation Hall of Fame, Bronx Walk Hall of Fame and DMC Technics Hall of Fame inductee. He is a recipient of the UN, the Bronx Chamber of Commerce, Brooklyn Borough President's Office. NYC Council, former Bronx Borough President Rueben Diaz's proclamations. A sought-after speaker and lecturer, Grandmaster Caz sits on the Windows Of Hip Hop Advisory Council, the Kennedy Center's Hip Hop Council, etc. Notably, during the past two decades, he is the Founder and CEO of the first Hip Hop Bus Tours, touring foreigners around NYC. His recording on Macklelowe and Rowe's first "Downtown" single went Platinum and the video featuring Caz, Melle Mel and Kool Moe Dee won a European MTV Video Award. Caz's "This is the Joint" Sirius XM Radio Show airs on LL Cool Jay's Sirius XM Radio.
VIP Harlem Mom's Ms. Jackie Rowe Adams is present, years since she lost two sons to gun violence. Jazz Violinist Gwen Laster Trio performs with guest vocalist, Tara Nova; Apollo Winner Egypt Johnson's Barry White, TSTs Spinners, Stylistics, Delfonics and Blue Magic impersonators and the Unique Band backs diva Anette's Gladys Knight, Patti LaBelle and Aretha Franklin's renditions.
"Returning from his stunning couture designs' 2023 Times Square Runway show, Designer Dimetrius Williams luxury and casual style originals, as published in European Vogue, Tatler, Better Homes and Garden, etc., will be shown. Guest model commentator Anita Jones is also the 70 medals champion ice-skater, plus Jenny Herold, the multiple awards guest model," announced King Melvin Brown, Pastor Guru, SAG-AFTRA actor, musician, and singer-songwriter and Mind Tuning Multimedia's Ex. Producer, VP of NYGB, and Host/:Producer of Mindtuning Multimedia's WPAT 9:30 AM Radio Show.
Associate producers are Grandmaster Caz, CJ Productions; CT Sue (Connecticut's first female promoter) and Rev. Howard's JMH Consultants. Sponsors are Sal Mozarella, Galaxy Diner, Pep Realty, and Leon Jones, Associate Director, Legal Shield. Ticket sponsors are Harlem's Bahamian Assn., Circle of Brothers, Pep Real Estate, Harlem Mothers, Bronx Works.
In August, King Melvin Brown's Mind Tuning Multi-Media, Inc. served as the sole media sponsor and underwriter for Rev. Johnny Howard's JHM Consultants and Rap Citi is Dope "50 YEARS OF HIP HOP of Awards, awarded 50 Hip Hop artists and influencers. Some Hip Hop artists may collect their awards for which they were unavailable on that date.
King Melvin Brown pleasantly explained, "I met Grandmaster Caz weeks ago, given my plans to interview and announced that Local 802, the music union, now enrolls Hip Hop and all music genres' deejays to NYGBs Magazine's Entertainment Editor Eileen Shapiro's Hall of Fame music and film composer Randy's Edelman's concert performing his new single with Melle Mel. Although Melle Mel had to perform elsewhere, I was among fans surrounding Grandmaster Caz. What an experience! He was terrific and thoughtfully gave several autographs and photos, After all, GrandmasterCaz, Melle Mel, and Kool Moe Dee are known as Hip Hop's Holy Trinity Emcees."
PRESS CONTACT: 917.576.8727, 212.498.9164 Email: King Melvin Brown
Irma Tyus-Mitchell
New York .Global.Biz
+1 212-498-9164
email us here
Originally published at https://www.einpresswire.com/article/666376075/hip-hop-icon-grandmaster-caz-assoc-producer-star-of-first-hip-hop-meets-r-b-and-jazz-music-fest