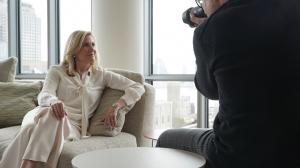 Anne Fink behind the scenes for 21st Century Women: Twenty Years of Progress, photo by Randall Slavin.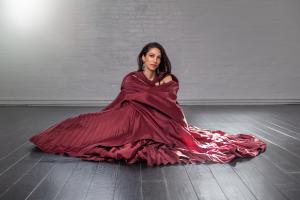 Huma Abedin, host of the 20th annual Moves Power Women Awards Gala & Dinner, courtesy of New York Moves Magazine.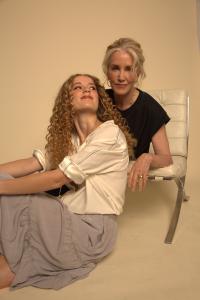 Felicity Huffman and daughter Georgia Grace Macy.
Red carpet coverage is cordially invited to New York Moves Magazine's 20th annual awards gala at 6:00pm on Saturday, November 18, 2023 at the Mandarin Oriental
NEW YORK, NEW YORK, UNITED STATES, November 14, 2023 /EINPresswire.com/ — With great pride, New York Moves Magazine is set to host its 20th annual Moves Power Women Awards Gala & Dinner, celebrating twenty years of Power Women. Being held November 18th, 2023 at the iconic Columbus Circle Mandarin Oriental in Manhattan, the evening will see an assemblage of strong, savvy, exceptional women and leaders from around the world.
Commencing with a glamorously warm welcome at 6:00 PM and followed by a red carpet and champagne reception at 6:30 PM that will set the stage for an enchanting evening, the Awards Gala & Dinner will take center stage at 7:00 PM and see to a sophisticated evening of celebration of esteemed honorees and entertainment. An evening of opulence and merriment, guests will be encouraged to continue celebrations and revel in the elegance and charm of a revered era at a The Great Gatsby afterparty from 10:00 PM until midnight.
New York Moves Magazine is a leader in championing women unafraid to ask hard questions. Taking on social, political, and global topics to show how women are shaping the world we live in today, the magazine offers a provocative, often polemic view of society; an askance look at the world we live in. The upcoming annual celebration is one of many impressive highlights of the magazine's commitment to celebrating leading women, and will be hosted this year by lifelong public servant, Huma Abedin, who served as deputy chief of staff to former U.S. Secretary of State Hillary Clinton. Abedin also served as vice chair of Hillary for America in 2016, resulting in the first woman elected nominee of a major political party, and is a New York Times Bestselling Author and MSNBC contributor.
Each year the Moves Power Women Awards Gala & Dinner sees an unparalleled guest list, this year's 20th Anniversary celebration proving to be no less impressive or monumental. The red carpet will be walked by the likes of distinguished, whimsical fashion designer, Betsy Johsnon; multi-platinum album singer-songwriter, Pat Benetar; Desperate Housewives veteran, actress, and activist, Felicity Huffman; and many, many more celebrated thespians, women in business, ambassadors and politicians, philanthropists, and so on. The evening's presenters are a similarly accomplished array of women across industry, including but not limited to: Bonnie Bernstein, Maria Elena Salinas, Theresa Rodriguez, Hazel Sanchez, Paige Hemmis, S.E. Cupp, Alexis Glick, Laura Segall, Maya Wiley, Caryl Stern, and Mindy Grossman. Entertainment will include: comedian Karen Morgan, poet Aija Mayrock, international concert pianist Elaine Kwon, opera star Anya Bulchandani, critically acclaimed musician Jonah Hill, performer-philanthropist duo, brothers Bradley and Bowie Bundlie of First Day of School, and singer/songwriter Alyson Michal.
"We want to wow our guests with an amazing event that promises to be a really memorable evening. As we continue our commitment to advancing gender equality and women's empowerment, we look forward to another 20 years of progress towards a fairer and more equitable world," says New York Moves Magazine publisher and CEO, Moonah Ellison. With an evening practically overflowing with talent, prestige, distinct, and accomplishment, the celebration is sure to achieve intended remarkability.
The gala will celebrate another legendary list of some two dozen honorees, which will similarly include women from a vast array of curricular backgrounds. From Fortune 500 company executives to chief correspondents and counsels in the public sector, New York Moves Magazine's hand-picked and -curated list of venerable, paramount women is one-of-a-kind– only rivaling that of those who have graced their past Power issues, famed veterans including Kerry Washington, Susan Sarandon, Jodi Picoult, Lori Greiner, Gayle King, Hoda Kotb, and many more.
In celebration of two decades worth of Moves Power Women, and to offer a unique insight into the profound transformations in women's lives during those years, New York Moves Magazine is producing an original and inspiring coffee table book: 21st Century Women: Twenty Years of Progress. "The book encapsulates the stories of dynamic Moves Power Women and reflects the times in which they were published, highlighting the lessons learned on their journey to success and mirrored by real events and living histories that document women's remarkable advancement over the past two decades."
Furthermore, an exclusive private members club with a full calendar of exclusive opportunity and adventure, New York Moves Magazine is parent to MovesNexus, where business and leisure meet… seamlessly. Providing a unique and exclusive platform and resource for Moves Power Women alumnae, MovesNexus encourages the exchange of unique ideas, shared experiences, and a plethora of mutually beneficial goals. A personal resource not available anywhere else, the MovesNexus launch is just the beginning of a lineup of confidential networking opportunities in the landmark year of New York Moves Magazine's 20th anniversary of Moves Power Women.
"It's now time to bring all these amazing Moves Power Women together under one umbrella – MovesNexus – and maximize the tremendous collective potential", says Moonah Ellison, originator of the Moves Power Women award. "With a unique shared experience and many mutually beneficial goals, MovesNexus members create a personal resource not available elsewhere."
A truly momentous and impressive publication with an equally inspiring event and as extraordinary resources to honor women across the nation and world, this year's Moves Power Women Awards Gala & Dinner is sure to wow, celebrating a rich history of women's accomplishments and those who fearlessly lead their industries and societies– those women who make the world we live in a reality, and the future we look to possible.
For a full, comprehensive list of red carpet attendees, guests, honorees, and more, please see below. For inquiries or more information on the Moves Power Women Awards Gala & Dinner, please contact New York Moves Magazine publisher and CEO, Moonah Ellison, at [email protected], or call 646-489-1633.
For press and media inquiries, please contact Nohra Hofmann or Henry Netter of Hundred Stories PR at [email protected] or [email protected], or call 914-446-4796 or 757-617-3156, respectively. Please note, there will be only a select number of press tickets available, for pre-approved press and confirmed coverage, and gift bags for those press who do attend.
+1 914-446-4796
[email protected]
Nohra Hofmann
Hundred Stories PR
Originally published at https://www.einpresswire.com/article/668473400/twenty-years-of-power-women-distinguished-new-york-moves-magazine-hosts-annual-gala-in-celebration-of-remarkable-women