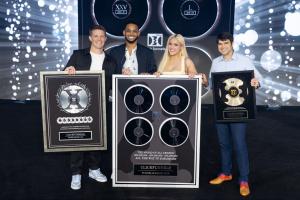 Scaling Offers empowers entrepreneurs to achieve remarkable business growth.
MIAMI, FLORIDA, UNITED STATES, October 26, 2023 /EINPresswire.com/ — Scaling Offers, founded by Anthony Agyeman, helps entrepreneurs transform their businesses, boost sales, and earn recognition in the industry. With a track record of tripling sales and revenue within 90 days, Scaling Offers is becoming a go-to solution for business owners seeking more freedom and tangible results. Now, after crossing $100M in sales within two years, Anthony Agyeman receives an award from Click Funnel, recognizing his contributions to the field of business.
Anthony Agyeman dedicated his award to the new and upcoming entrepreneurs who want to scale up their business and take it to the next level. Speaking to the media, Anthony said, " This award is the testament to the power of Scaling Offers' innovative strategies and system implementations. At Scaling Offers, we understand that achieving seven-figure sales isn't a simple feat. Common challenges, such as misaligned traffic sources, subpar offers, and the burden of solving every problem independently, often impede business growth. While many entrepreneurs turn to digital marketing companies or sales agencies to address specific aspects of their business, Scaling Offers emphasizes a holistic approach that encompasses every facet of business development."
Anthony Agyeman is the visionary behind Scaling Offers, devising a unique system that automates and scales up businesses. This system encompasses paid marketing, organic marketing, restructuring of employee roles, development of Standard Operating Procedures (SOPs), sales team optimization, and cultural enhancements, among other elements. It's a comprehensive approach that goes beyond merely addressing one aspect of business operations, ensuring a more robust and sustainable growth trajectory.
Scaling Offers in itself is a prime example of how this comprehensive approach can lead to remarkable results. By collaborating with businesses and expertly implementing strategies, Anthony and the Scaling Offers team have allowed entrepreneurs to experience transformative growth.
Anthony Agyeman added, "We believe in providing entrepreneurs with a system that covers all bases. Business growth isn't just about sales or marketing; it's about optimizing the entire operation. This recognition is a testament to our approach, and we are thrilled to see our clients achieving such remarkable milestones."
Those looking to seize the opportunity with Scaling Offers are encouraged to fill out a form on the Scaling Offers website to book a call with their expert team and discover how their unique approach can transform their business.
To learn more about Scaling Offers and how they can help your business achieve unprecedented growth, visit their website at www.scalingoffers.com
For updates, follow Anthony Agyeman on Instagram: https://www.instagram.com/scalingoffers and https://www.instagram.com/onlinemoney
Anthony Agyeman
Scaling Offers
[email protected]
Visit us on social media:
Instagram


Originally published at https://www.einpresswire.com/article/664384417/anthony-agyeman-founder-of-scaling-offers-wins-an-award-for-crossing-100m-within-two-years