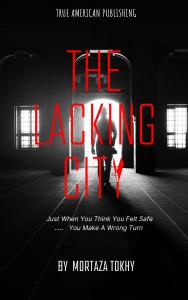 " The Lacking City" is a Super Natural Thriller that New York Book Review Calls "Riveting" written by child author Mortaza Tokhy – True American Publishing
This Super Natural Horror Novel Is Sure To Captivate Readers"
— Mortaza Tokhy
NEW YORK, NEW YORK, UNITED STATES, June 22, 2023/EINPresswire.com/ — At an age where most kids are consumed with video games and social media, Child Author Mortaza Tokhy is making waves in the world of horror fiction. With his latest release, The Lacking City, this young wordsmith is ready to send shivers down the spine of readers.
"As one of the youngest authors ever to tackle such spine-tingling subject matter in a book, Mortaza's work stands out from the crowd. His vivid imagination captivates readers through chilling scenes that leave them breathlessly anticipating each new page." describes New York Book Review. With the release of The Lacking City, Mortaza Tokhy says "This super natural horror novel is sure to captivate readers with its unique storyline" . Mortaza recognizes that having experienced professionals review and provide feedback on his manuscript can make all the difference in creating a compelling and engaging read. By choosing to collaborate with editors throughout the writing process, Mortaza says he has learned a lot. "Something that is not taught in public schools," explains Mortaza.
More Information About The Author
Mortaza Tokhy is an eleven-year-old up and coming author who writes sci-fi thriller and supernatural short stories. He says his age is irrelevant only the impact of his writing matters.
Website: www.thelackingcity.com
Book Available At Barnes And Noble Bookstores and Apple Books
Newswire New York
News Wire New York
+1 800-400-1309
email us here
The Lacking City
Originally published at https://www.einpresswire.com/article/640969223/child-author-mortaza-tokhy-is-making-waves-in-the-world-of-horror-fiction-with-his-latest-release-the-lacking-city