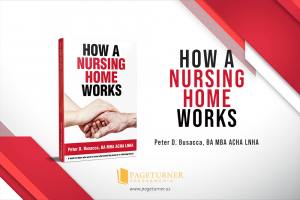 CHULA VISTA, CA, UNITED STATES, September 27, 2023 /EINPresswire.com/ — A book for those who want to know what should be going on in a nursing home, How a Nursing Home Works got the recommendation of The US Review of Books.
A nursing home provides care for those who need long-term care or physical rehabilitation. In her Pacific Book Review, Allison Walker gave an on-point description of a nursing home: "Despite its calm exterior, a nursing home is a bustling place. As the caretakers of a vulnerable generation, nursing homes must work like a well-oiled machine to provide the highest standard of care possible."
Peter D. Busacca, BA, MBA, ACHA, LNHA, has experiences in different nursing homes, either as a consultant or a watcher for a loved one. It kept him in the loop with the latest developments of nursing homes and detailed them in his book.
Those experiences were just supplementary. The report of the detailed and comprehensive analysis of the processes at TownHouse Extended Care, where he completed an internship, was the basis of his book.
His goal is for his book to help make great, quality nursing homes more uniform, ubiquitous, and longer lasting in this industry. The book's review in Kirkus Reviews characterizes how Busacca penned How a Nursing Home Works, "A healthcare administrator outlines important structures and procedures in a handbook on nursing home operation. Overall, Busacca has produced a thorough best practices guide for residential healthcare institutions." Barbara Bamberger Scott further commended Busacca in her The US Review of Books, "Busacca has organized his text to be fact-rich and highly informative. Busacca's work is couched in terminology that can be understood by someone newly approaching the idea of nursing home care and can provide a sense of comfort and commitment to potential residents and their families."
This book is dedicated to three target audiences. First is for family members of a care recipient of a nursing home.
Primarily, what Allison Walker said in her Pacific Book Review is true: "Families spend 'hours of internet research, trying to decipher how to choose a humane and responsible home—' Busacca condensed and collected it in this single volume so they may gain greater understanding of their loved one's care processes in the facility they entrusted them.
It is also aimed at building up their confidence in the nursing home and increasing their reassurance of their loved one's recuperation." Second is for aspiring healthcare professionals' greater clarity of the responsibilities of healthcare professionals in nursing homes. Lastly, it's for healthcare professionals who are already working in one to see the responsibilities of the other professionals working in nursing homes.
A book review featured in Kirkus Reviews defines How a Nursing Home Works as "an informative guide to the functions, management, and operation of residential healthcare facilities." Allison Walker was delighted to have read this book as she encourages everyone in her Pacific Book Review: "One cannot read his book without developing a new appreciation for the work behind the scenes, which makes comfort and accessibility in a nursing home possible."
Whether belonging to Busacca's target audiences or not, interested readers are welcome to get paperback and e-book copies of this book at www.pageturner.us.
Jen
PageTurner Press and Media
[email protected]
Visit us on social media:
Facebook
Twitter
Instagram
YouTube
TikTok
Other


Originally published at https://www.einpresswire.com/article/658155524/peter-busacca-on-expertly-penning-how-a-nursing-home-works