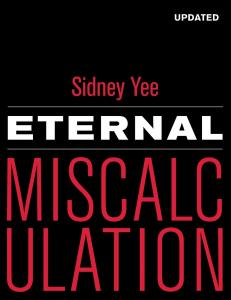 "Eternal Miscalculation" the Chronicles of crisis of faith
CANADA, August 16, 2023/EINPresswire.com/ — In Sidney Yee's tell all he shares the "Eternal Miscalculation" that God created that led to an unexpected crisis of faith that took him to a new direction in his spiritual journey. Yee's book is a collection of life lessons, spiritual realizations and contemplations, as well as a guide to detecting frauds, fakes and fools that could lead you astray.
After years of serving Christ since 1977, working with humility and commitment, Yee experience God controlling him against his will, in word, deed and thoughts and made him doubt the meaning of his existence. He gave everything for his faith and stayed true to the path but was rewarded with deceit and deception. Due to this, Yee realized something profound , his life was ruined by God who is lying and deceiving the world. Yee shares his cautionary tale, warning readers there is another side to the usual image of a loving God, but that God is not righteous at all and will do anything to have a righteous image.
Yee knows that God was the reason his life took a turn for the worse and shows the readers the suffering he endured, which led him to conclude he was betrayed by his God. Through this Yee hopes the readers will see the signs and save his soul from a wrathful God, even though he is innocent of any evil. Yee shows the readers the only way he can be saved if his book gets worldwide attention.
About the author

Sidney Yee became a Christian in 1977 and embarked on a voyage to win souls for Christ. He taught believers how to discern human, Satanic, Godly and angelic spirits in order to protect themselves from fraud, fakes and fools so they will never be led astray in their Christian journey. However, currently, he is no longer a Christian. Yee knows God and Jesus betrayed him. His main message is to show how God continues to lie to deceive the world for His face.
Sofia Holmes
Sweetspire Literature Management
+1 765-736-0618
email us here
Visit us on social media:
Facebook
Twitter
LinkedIn
Instagram
YouTube
TikTok


Originally published at https://www.einpresswire.com/article/650239843/sidney-yee-shares-his-spiritual-journey-shows-how-to-discern-between-frauds-fakes-and-fools