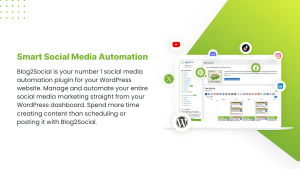 Blog2Social simplifies social media marketing with new video feature. Easy posting, custom content, and scheduling for best results with free 30-day-trial!
GREVENBROICH, NORTHRINE-WESTPHALIA, GERMANY, September 27, 2023 /EINPresswire.com/ — Blog2Social, a top-rated social media automation tool, has released its new video feature, allowing social media managers and online marketers to share their video content across all of their social media networks from a single place: the Blog2Social dashboard.
Blog2Social is a versatile social media automation tool designed to transform the way marketers manage and promote their social media content. Its main goal is to simplify the social marketing workflow while saving marketers valuable time. The new video feature adds to the long list of features to create, customize, schedule, and automatically share content across multiple social media networks with just a few clicks.
Key advantages of Blog2Social's video feature include:
1. Simplified Video Posting: Users can post their videos to all their socials from one central dashboard without having to navigate and upload to each network individually.
2. Customization: Users can customize and adjust descriptions, copies, hashtags and emojis for each platform to guarantee maximum reach and engagement with the networks' audience preferences.
3. Best Time Scheduling: Videos can be scheduled to release for each network's best time to ensure best possible reach, engagement and viewership.
4. Scheduled Re-Sharing: Evergreen content can be re-shared in regularly scheduled intervals, keeping it visible for followers and drawing in new leads.
5. Free Trial Offer: Marketers can take advantage of the free 30-day-trial period to test the power of social media automation with Blog2Social themselves.
With Blog2Social's new video feature, marketers can step up their social media marketing game. Taking full advantage of the function, users will be able to simplify their video posting workflow. As a social media automation tool, Blog2Social saves social media managers and online marketers valuable time and helps them to keep up with the fast pace of the digital landscape.

Anastasija Zado
ADENION GmbH
+49 2181 160 22 55
[email protected]
Automatically Post Videos from WordPress to Social Media
Originally published at https://www.einpresswire.com/article/657850625/unlocking-the-full-potential-of-social-media-video-marketing-with-blog2social