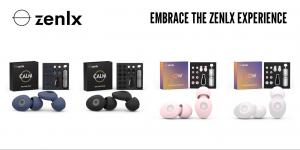 Zenlx's Calm and Flow Earplugs Series offer revolutionary auditory experiences with superior noise reduction and comfort for a wide range of users.
NEW YORK, NY, UNITED STATES, July 26, 2023/EINPresswire.com/ — Zenlx, an innovative lifestyle brand renowned for creating cutting-edge products that enhance everyday experiences, is thrilled to announce the launch of two groundbreaking products: Zenlx Calm Earplugs for Sleep and Zenlx Flow Earplugs for Concerts. These state-of-the-art earplugs, the result of years of rigorous research, development, and testing, offer unparalleled noise reduction, comfort, and durability, setting a new standard in lifestyle-enhancing products.
"In a world where noise is a constant, Zenlx is committed to providing solutions that not only protect but also enhance the auditory experience," said the Co-Founders at Zenlx. "Our new Calm and Flow earplugs are a testament to this commitment, offering users the ability to control their sound environment while ensuring maximum comfort and durability."
Zenlx Calm Earplugs for Sleep has been positioned as a passport to tranquility. Equipped with a noise-reducing acoustic filter, these earplugs deliver up to 30dB of noise reduction to cater to a variety of needs, from sleeping and focusing to traveling and parenting. Crafted from ultra-soft, hypoallergenic silicone, these earplugs are not only comfortable but also washable and reusable, promising longevity and sustainability. With four sizes of silicone and three sizes of foam ear tips, Zenlx Calm ensures a perfect fit for every user. The inclusion of two interchangeable filter sets offering 28dB and 25dB noise reduction allows users to customize their sound environment. All these features are complemented by a spacious, robust aluminum case for secure storage and travel.
Zenlx Flow Earplugs for Concerts, on the other hand, are a game-changer for music enthusiasts. Providing up to 21dB of noise reduction, they protect against potential hearing damage without compromising the quality of sound. The patented attenuation filter technology enhances sound quality while blocking harmful noises. Two acoustic filters provide different volume levels, allowing users to customize their auditory experience based on their environment. With four sizes of ultra-soft silicone ear tips, Zenlx Flow offers a personalized fit and sound experience. The earplugs come with a stylish, durable aluminum capsule case for easy portability and storage.
In line with Zenlx's commitment to environmental, social, and governance (ESG) principles, the company has taken significant steps to reduce its carbon footprint and promote sustainability. The reusable nature of silicone earplugs helps to cut down on the waste associated with traditional foam alternatives. Zenlx is also proud to announce its partnership with a global hearing foundation to support disadvantaged children worldwide.
Both products are now available on Amazon.com and the official Zenlx website at www.zenlx.net. More color options for both earplug series are also in the pipeline, offering users even more ways to personalize their Zenlx experience. Always at the forefront of innovation, Zenlx continues its unwavering commitment to enhancing lifestyles through high-quality products that offer superior noise reduction, hearing protection, and comfort. Zenlx is also actively developing more groundbreaking solutions to further enrich people's lives.
For any questions, send an email to [email protected]
About Zenlx:

Zenlx is a forward-thinking lifestyle brand at the intersection of technology and daily living. We are dedicated to enhancing the quality of life for our customers by leveraging innovative technologies to create solutions that promote comfort, well-being, and seamless integration into everyday life. Our products are meticulously designed, embodying a harmonious balance between the individual and their environment, and are a testament to our commitment to technological advancement and lifestyle enhancement.

Media Relations
Globular One LLC
[email protected]
Originally published at https://www.einpresswire.com/article/646537575/zenlx-launches-two-innovative-earplugs-series-zenlx-calm-earplugs-for-sleep-and-zenlx-flow-earplugs-for-concerts