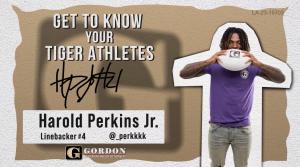 McKernan is giving fans an unprecedented peek into the playful and down-to-earth side of some of their favorite LSU Football players.
LA, UNITED STATES, September 13, 2023/EINPresswire.com/ — Gordon McKernan, a Louisiana personal injury attorney and pioneer in Name, Image and Likeness (NIL) partnerships, is connecting fans with some of their favorite LSU Football players with his "Get to Know Your Tigers" series.
The "Get to Know Your Tigers" series will provide viewers with an unfiltered glimpse into the lives of McKernan's NIL partners from LSU Football. In a world where athletes are often perceived solely through the lens of competition and performance, this series offers a refreshing perspective by showcasing the authentic personalities of these players.
At the core of McKernan's series is the candid and light-hearted nature of the interviews. Whether it's delving into their game-day rituals, recounting the best piece of advice they've received, or even revealing their dream superpowers, viewers are treated to an intimate look into these players' lives.
McKernan's series dissolves the barriers that often separate fans from their favorite players, fostering a sense of connection that transcends the football field. Fans and supporters alike can eagerly anticipate further insights into the lives of their cherished Tigers with McKernan's "Get to Know Your Tigers" series.
Gordon McKernan Injury Attorneys is located at 5656 Hilton Ave., Baton Rouge, LA 70808, and has offices in Alexandria, Baton Rouge, Denham Springs, Gonzales, Hammond, Lafayette, Lake Charles, Monroe, Shreveport and Zachary. For questions and inquiries, call (225) 888-8888 or visit the website for more information.
Emily Gaffney
Gordon McKernan Injury Attorneys
[email protected]
Originally published at https://www.einpresswire.com/article/655548032/gordon-mckernan-brings-authenticity-and-fun-to-lsu-football-fans-with-his-get-to-know-your-tigers-series