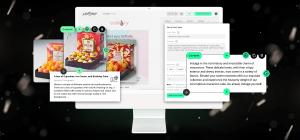 AI-powered Content Blocks empower users to generate compelling copy and stunning imagery directly within the email platform
We're committed to equipping our customers for success. Whether it's our customer support, competitive pricing, comprehensive plans, or tech innovations – our passion is to empower our customers."
— Spiro Malamoglou
CAPE TOWN, SOUTH AFRICA, September 15, 2023/EINPresswire.com/ — Mail Blaze, a pioneer in email marketing solutions, is thrilled to unveil its latest marvel: the Mail Blaze AI Content Blocks. This groundbreaking addition to the Mail Blaze email platform represents a paradigm shift in email marketing, combining cutting-edge technology with unmatched ease of use.
In an era where captivating content and eye-catching visuals reign supreme, the Mail Blaze AI Content Blocks emerge as the ultimate tool for businesses aiming to supercharge their email marketing efforts. Powered by artificial intelligence, these Content Blocks empower users to effortlessly generate compelling copy and stunning imagery directly within the email platform. No more reliance on external tools, additional software, or outsourcing. A well-crafted prompt is all it takes for users to harness the AI's creativity.
Spiro Malamoglou, Director of Mail Blaze, shared his excitement about this pioneering development, saying, "At Mail Blaze, we've always been committed to equipping our customers for success. Whether it's our stellar customer support, competitive pricing, comprehensive product plans, or cutting-edge tech innovations – our passion is to empower our customers. Our AI Content Blocks are poised to revolutionize email campaigns, enabling users to create top-tier content that truly resonates with their subscribers, driving substantial benefits for their businesses. It's an exhilarating journey ahead."
KEY FEATURES OF MAIL BLAZE'S AI CONTENT BLOCKS
Effortless Content Creation: Say goodbye to writer's block and creative hurdles. The Mail Blaze AI Text Content Block empowers users to refine existing copy or generate fresh content effortlessly.
Stunning Visuals, No Design Skills Required: Crafting captivating visuals is a breeze. The Mail Blaze AI Image Content Block delivers unique, high-quality images that showcase products and encapsulate brand identity.
Cost-Effective Innovation: Access to Mail Blaze's AI Content Blocks is included with all Mail Blaze subscriptions at no extra cost. It's a game-changer for businesses looking to enhance their campaigns without stretching their budgets.
Streamlined Workflow: Using Mail Blaze's AI Content Blocks for text and imagery drastically reduces the time needed to create email marketing campaigns.
ABOUT MAIL BLAZE:
Mail Blaze is a leading email marketing platform dedicated to helping businesses connect, create, and cultivate exceptional email campaigns. With a relentless focus on customer service and an intuitive, user-centric design, Mail Blaze empowers businesses to craft powerful email marketing campaigns effortlessly.
CONTACT INFO:
Pauline Radford-Hayden
Mail Blaze
[email protected]
Take a mini tour of Mail Blaze now
Originally published at https://www.einpresswire.com/article/655903967/mail-blaze-breaks-new-ground-ai-powered-content-generation-arrives-in-email-marketing