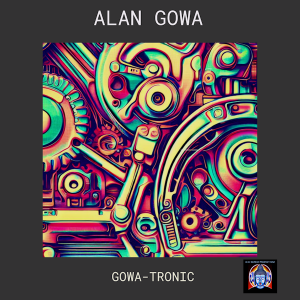 ASHEVILLE, NC, USA, July 24, 2023/EINPresswire.com/ — Blue Buddha Productions is thrilled to announce the signing of guitarist Alan Gowa. Known for his extraordinary solo performances and innovative looping technique, Gowa has captivated audiences with his mesmerizing musical prowess. With this exciting new partnership, Gowa is set to release his highly anticipated solo album, "Gowa-Tronic" pushing the boundaries of musical innovation and captivating fans with its fusion of Prog Rock, heavy electronic beats, and aggressive rock guitar.
Gowa's mastery of the looping technique allows him to create intricate layers of music in real-time during his performances, using a looping delay pedal. As the guitar melodies are played, they are recorded and layered, while additional elements such as guitar synthesizer sounds (including bass, keyboards, orchestral tones, and percussion) are added "live." The result is a remarkably full and dynamic sonic landscape that transcends traditional solo guitar performances. Gowa's versatility enables him to seamlessly blend various musical styles and genres, ensuring an unforgettable and unique experience at each performance.
"Gowa-Tronic," the highly anticipated album, showcases Gowa's exceptional skills on a multitude of instruments. The album features drum, percussion, and synth loops in addition to Alan playing bass, keyboard, guitar and E-bow (an electronic device providing infinite sustain to guitars), creating a groundbreaking fusion of Prog Rock, heavy electronic beats, and powerful rock guitar. This eclectic blend promises to captivate fans across different musical preferences and leave a lasting impression.
In addition to his solo career, Alan Gowa has established himself as a remarkable opening act for renowned blues and classic rock icons, including Chuck Berry, The Marshall Tucker Band, Dick Dale, Edgar Winter, John Mayall's Blues Breakers, J. Geils, and many more. He has opened shows for esteemed artists such as Mark Egan, Emmett Chapman, and the Stickmen featuring Tony Levin, Pat Mastelotto, and Markus Reuter, leaving audiences in awe of his musical dexterity.
Furthermore, Gowa's musical journey extends beyond his solo endeavors. As a member of the band Fresh Fish, Gowa and his bandmates performed his original compositions throughout the vibrant New York/New Jersey metropolitan area. Their remarkable achievements include being finalists in the prestigious Aquarian Band Contest. Fresh Fish's music video for their hit song "Waiting" received notable recognition, airing on MTV's "120 Minutes" and numerous local cable outlets. They were also featured on acclaimed national TV shows, including interviews on Joe Franklin and the "Uncle Floyd Show."
Alan Gowa's musical versatility has led him to collaborate with diverse artists, such as poet John Lunar Richey, with their captivating live performance being released as "Live at Lucky" on Robert Musso's esteemed label. Moreover, Gowa has performed with Carlo Martini (The Italian Elvis) at Howard Stern's sold-out New Year's Eve Show, showcasing his exceptional guitar skills on a prominent stage.
With his signing to Blue Buddha Productions, Alan Gowa embarks on an exciting new chapter in his musical career. Blue Buddha Productions is renowned for nurturing exceptional talent and supporting artists in their creative endeavors. Gowa's exceptional artistry and unique approach to music make him a perfect addition to the Blue Buddha Productions family.
As the release of "Gowa-Tronic" approaches, the anticipation among music enthusiasts continues to grow. With its groundbreaking fusion of genres and Gowa's captivating looping technique, the album promises to captivate fans across various musical landscapes. Prepare to embark on a sonic journey like no other as Alan Gowa invites listeners to experience the boundless possibilities of his captivating music.
"Gowa-Tronic" Tracklist:

1. Fresno 9

2. G's No Waiting

3. bAcksPLash

4. Pink and Black

5. Prog Rock Dance Party

6. Cold Snowy Peaks of Hoboken

7. Another Sleepless Month

8. 1821

9. Big Giant Fragment

10. Big Giant Continuous Mix
To purchase: https://bluebuddha.bandcamp.com/album/gowa-tronic
For information:

https://www.facebook.com/alan.gowa/

https://www.instagram.com/alangowa/
Press inquiries:
Billy James
Glass Onyon PR
+1 828-350-8158
[email protected]


Originally published at https://www.einpresswire.com/article/646156160/guitarist-alan-gowa-signs-with-blue-buddha-productions-unveils-captivating-solo-album-gowa-tronic