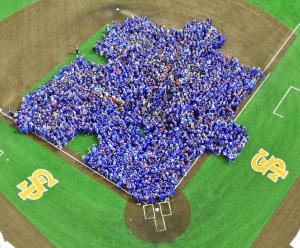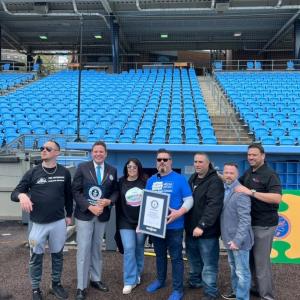 Largest Human Puzzle Piece Event Committee
Largest Human Puzzle Piece Event
Grace Foundation's autism event breaks Guinness World Record with 2,453 participants, emphasizing unity and inclusion. autism awareness on Staten Island
Each puzzle piece assembled today represents our joint commitment to fostering understanding and inclusion for individuals with autism."
— Cathy Del Priore, Executive Director of Grace Foundation
STATEN ISLAND, NEW YORK, USA, July 26, 2023/EINPresswire.com/ — In a significant victory for autism awareness, the Grace Foundation of New York has achieved a truly remarkable feat – smashing the Guinness World Record for the most participants in a puzzle assembly event. This astonishing accomplishment transpired during the World Autism Awareness Day event, where an astounding 2,453 participants gathered, exemplifying the powerful spirit of community and unity in Staten Island.
The Grace Foundation, a renowned Staten Island nonprofit organization dedicated to educating and empowering individuals living with autism, spearheaded this successful event. "Today's achievement truly symbolizes the strength of our community," says Cathy Del Priore, Executive Director of Grace Foundation. "Each puzzle piece assembled today represents our joint commitment to fostering understanding and inclusion for individuals with autism."
Their commitment was reflected in a sea of puzzle pieces, a universally recognized symbol of autism. "Seeing the sea of puzzle pieces today was deeply moving. It's a testament to the powerful spirit of unity in our community," says Dan Ryan, of The Staten Island Media Group.
Numerous sponsors, including local businesses and civic leaders, lent their generous support, further propelling the event's success. Mike Bloomfield of Tekie Geek reflects, "As a local business, we're proud to stand with our community and contribute to such a worthy cause."
"The journey to this record-breaking event entailed meticulous planning, coordination, and an unwavering commitment," says Brian Licata of Marvel Consults. "The result – a Guinness World Record – is a testament to the power of collective effort."
The involvement of local businesses was equally instrumental. "It's critical that businesses step up and play a role in fostering inclusivity and understanding," says Anthony Rapacciulo from PrCision. "We are more than thrilled to be part of this momentous event."
Mas DiDonna of Merge Event Solutions, echoed these sentiments. "Today, we didn't just set a record. We sent a strong message about the importance of inclusion and acceptance."
Borough President Vito Fossella and Councilman David Carr, both ardent supporters of the autism community in Staten Island, championed the cause with their ongoing advocacy. Similarly, the support of Councilman Joe Borelli was invaluable, mirroring the commitment of elected officials to the developmental disabilities community.
Companies like Island Auto sponsored classes of students to attend the event, reinforcing the significance of education and understanding from a young age. Meanwhile, tech companies like AusomeTech underlined the importance of creating inclusive opportunities in the workforce for individuals with autism.
The event was also made possible by the concerted efforts of several nonprofit organizations, The Integrated Athletic InitiativeOn Your Mark, A Very Special Place, Eden II, Crossroads, Community Resources, and Lifestyles for the Disabled, among others, provided critical support, embodying the collaborative spirit necessary to effect change.
Sal Fabozzi and Anthony Passalacqua from The Integrated Athletic Initiative, said, "We're proud to support an event that places emphasis on the importance of inclusivity. We believe that everyone deserves the opportunity to participate, engage, and excel."
The World Autism Awareness Day event orchestrated by the Grace Foundation serves as a shining example of what can be achieved when a community comes together for a cause. The achievement will undoubtedly inspire further endeavors to promote autism awareness and inclusion, making Staten Island a beacon of hope for communities everywhere.
This milestone in autism awareness is just one puzzle piece in the larger picture. As we continue to foster understanding and acceptance, each piece added brings us one step closer to a society where individuals with autism feel fully accepted and empowered. The Grace Foundation, along with its partners and supporters, has made a profound contribution towards this goal, truly making World Autism Awareness Day a day to remember.
Brian Licata
Marvel Consults
+1 347-563-0622
email us here
Puzzle for Autism | The GRACE Foundation of NY | Dan on the Street | Season 2 | Episode 2
Originally published at https://www.einpresswire.com/article/646564686/grace-foundation-of-ny-shatters-guinness-world-record-for-autism-awareness