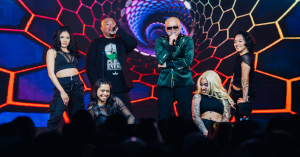 With the support of fans, RoRo Yone is only a few votes away from performing at the We Can Survive concert with top musical acts. Visit roroyone.com to vote.
WASHINGTON, DC, UNITED STATES, September 5, 2023/EINPresswire.com/ — Originally from the Philippines and residing in Northern Virginia, the artist known as RoRo Yone, has received an exclusive invitation from Audacy, formerly recognized as Radio.com, to participate in a prestigious musical competition – Opening Act. The aim? To secure a spot as the opening act for A-list music artists Maroon 5, Kelly Clarkson, and One Republic at the highly anticipated 10th annual We Can Survive Concert supporting a great cause – American Foundation for Suicide Prevention (AFSP). This exciting opportunity signifies a significant milestone in RoRo Yone's growing music career, showcasing his talent and charisma at the Prudential Center in New Jersey.
With the unwavering support from his dedicated fanbase, RoRo Yone has achieved an impressive feat by maintaining the top #1 spot in all preceding rounds of a fiercely competitive lineup comprising thousands of artists. His unbroken winning streak has endured through the rigorous stages of the competition, from the initial top 20, top 10, and top 5, to the group finals and the wildcard round. As he now enters the final stages of the contest, RoRo Yone needs his fans' support more than ever.
The win would mark a significant breakthrough for a Filipino Hip-Hop artist who has accumulated numerous accolades, including multiple plaques, and has graced the stages of major events, ranging from the MGM Grand show to a dazzling performance in Times Square during New York Fashion Week. RoRo Yone's talents have taken him to the small screen in Washington DC, as well as to the vibrant nightlife of clubs, and culminated in his largest audience yet—an inspiring performance in South Sudan, Africa, where he performed in front of over 200,000 spectators.
Notably, the Global Top 10 Charting Hip-Hop Artist RoRo Yone had the distinction of being a special guest performer during the Andrew Ford Medina US Tour 2023 in Baltimore, Maryland, alongside other Filipino artists. This event marked another pivotal moment in his burgeoning career, as he for the first time made his debut in front of thousands of Filipino supporters.
Now is a momentous opportunity for RoRo Yone to shine on a stage of global significance. Previous winners of Opening Act have opened for Taylor Swift, Billie Eilish, Lizzo and more. The Upcoming show on October 14, 2023 will feature Maroon 5, Kelly Clarkson, ONEREPUBLIC, and more. To be a part of RoRo Yone's next chapter of performing along with the top music artists, please cast your vote by visiting www.roroyone.com.
Yelena Scheidler
Dash Talents
+1 703-967-5758
[email protected]
Visit us on social media:
Facebook
Instagram
YouTube


Originally published at https://www.einpresswire.com/article/653934192/filipino-artist-roro-yone-to-open-for-maroon-5-and-kelly-clarkson