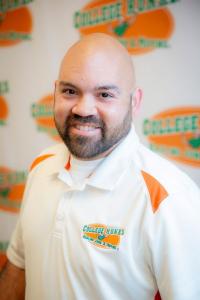 TAMPA, FL, USA, September 15, 2023/EINPresswire.com/ — College HUNKS Hauling Junk and Moving®, an award-winning company and industry leader in stress-free solutions for moving and junk-hauling needs, is shining the spotlight on one of their franchisees during Hispanic Heritage Month. Omar Nieves is a top-performing leader with his sights set on growth for himself, his team, and the College HUNKS brand. Originally from Puerto Rico, Nieves joined the company in 2021 as the owner of the Jasper, GA location and has plans to expand.
"We are incredibly honored to have Omar on our team. He brings a passion for the business that resonates through his team and the Jasper community that they serve," said Nick Friedman, Co-Founder and Visionary of College HUNKS. "He has quickly demonstrated his commitment to success and his numbers prove it. Omar is also deeply dedicated to building leaders and being proactive in his community, which are the core of our enterprise. He's set a solid foundation for continued growth and we are excited to watch him reach new heights."
Omar Nieves opened the Jasper College HUNKS in June 2021 with his business partner Chris Holcombe. Within his first month of business, he set a franchise record for Highest Revenue. Earlier this year, Nieves and his team were recognized for being part of the $1 Million Dollar Club (generating more than $1 Million in revenue in 2022).
Prior to College HUNKS, Omar Nieves grew up in a military family. His father served in the U.S. Army. They eventually called Texas home, where Nieves attended the University of Texas in Austin and Central Texas College. Professionally, he explored sales for notable brands such as AT&T and Progressive Insurance. Through these experiences, he was able to hone his sales and client relations skills while earning impressive marks of recognition within the companies.
Eventually, Nieves shifted his focus to product strategy, development, and lifecycle on a global platform.
Feeling unfulfilled and seeking an opportunity with more human connection, he began considering franchising and eventually, was introduced to College HUNKS.
"I have a strong passion for cultivating our future leaders and found that College HUNKS shared my vision. I truly love the brand and am thrilled to be part of the organization," said Omar Nieves, Co-owner of the Jasper College HUNKS. "There aren't a lot of opportunities for young adults in our area, so through our Jasper location, we are helping lift up these individuals and putting them on the path to leadership and growth. We are also committed to our community and are continually exploring ways to support our neighbors, who are just as vital to our growth and success."
Hispanic Heritage Month is observed annually from September 15-October 15 and highlights the contributions and influences of Hispanic Americans across industries and communities. According to the U.S. Small Business Administration, nearly one in four new businesses is Hispanic-owned, an impact that contributes more than $800 billion to the American economy annually.
For more information, visit www.collegehunkshaulingjunk.com or follow them on Facebook or Instagram.
About College HUNKS Hauling Junk and Moving

College HUNKS Hauling Junk & Moving® was originally founded by two college buddies with a beat-up cargo van and now has more than 200 franchises providing full-service tech-enabled residential and commercial moving, junk removal, donation pickups, and labor services in the United States as well as Canada. H.U.N.K.S., which stands for Honest, Uniformed, Nice, Knowledgeable, Service, is a socially conscious, values-based organization and has a national partnership with U.S. Hunger, which strives to end childhood hunger. The brand was awarded the Community Hero award by U.S. Hunger in 2022. The company strives to become recognized as an iconic brand, renowned for its world-class company culture and service, while also providing a viable employment and franchise opportunity to pursue personal and professional fulfillment.
For more information, visit www.collegehunkshaulingjunk.com.
Brianne Barbakoff
Ink Link Marketing
+1 786-605-9228
email us here
Visit us on social media:
Facebook
Instagram


Originally published at https://www.einpresswire.com/article/655965851/college-hunks-hauling-junk-and-moving-spotlights-omar-nieves-for-hispanic-heritage-month