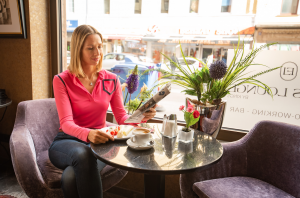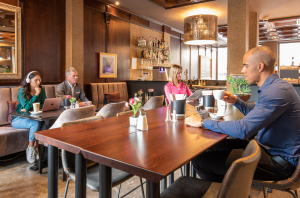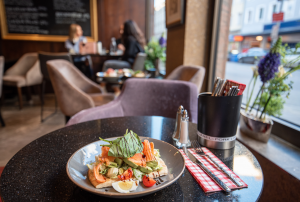 Focus Lounge By King's offers food and coffee
Munich, Germany – KING's Hotel First Class, a luxury boutique hotel located in the heart of Munich, has launched an innovative co-working café, the Focus Lounge
We've always been at the forefront of identifying and responding to emerging trends in the hospitality industry. The Focus Lounge is our answer to the growing demand for flexible workspaces."
— Hanna King, CEO of KING's Hotels
MUNICH, GERMANY, June 16, 2023/EINPresswire.com/ — KING's Hotel First Class, a luxury boutique hotel located in the heart of Munich, has launched an innovative co-working café, the Focus Lounge, cementing the establishment's status as a destination not only for leisure but also for business and remote work.
In a move that reflects the changing nature of work, the hotel has transformed one of its spaces into a fully-equipped co-working lounge, designed to cater to the needs of today's digital nomads, business travelers, and remote workers.
The Focus Lounge represents a fusion of luxury and convenience. Complete with high-speed WiFi, ample workspace, and meeting facilities, the lounge also offers an array of healthy snacks, premium coffee, and other refreshments. This comfortable and stylish workspace is designed to provide guests with the ability to seamlessly balance work and leisure during their stay.
Hanna King, CEO of KING's Hotels, said, "We've always been at the forefront of identifying and responding to emerging trends in the hospitality industry. The Focus Lounge is our answer to the growing demand for flexible workspaces. We want our guests, whether they're here for leisure or business, to enjoy the comfort and convenience of being able to work in a relaxed, well-equipped environment."
The Focus Lounge offers flexible plans tailored to modern professionals. From 20€ half-day options featuring high-speed WiFi and complimentary refreshments, to a 425€ monthly plan for unlimited access, the co-working café caters to various work styles and schedules, solidifying its position as Munich's go-to workspace for productivity and comfort.
Located in Munich's vibrant Maxvorstadt district, KING's Hotel First Class is surrounded by a rich selection of art galleries, museums, and restaurants. Its central location makes it a prime spot for guests who want to explore the city in their downtime, providing a balance of work and pleasure.
Ms. King added, "Munich has a lot to offer to the modern traveler. By combining high-quality accommodations, a strategic location, and now an exceptional co-working space, we are redefining what a hotel stay can mean."
The introduction of the Focus Lounge underlines KING's Hotels' commitment to catering to the evolving needs of its guests. With this innovative concept, the hotel hopes to strengthen its position as a leading choice for modern travelers in Munich.
For more information or to make a reservation, see details below.
Hanna King, CEO
KING's Hotels Munich
Contact:
KING's Hotel First Class
Dachauer Straße 13,
80335 München
Call: +49 (0) 89.55187-0 / +49 (0) 89.55187-300;
Email: [email protected]
KING's Center
Marsstraße 15,
80335 München
Call: +49 (0) 89.51553-0 / +49 (0) 89.51553-300
Email: [email protected]
AdvaStay by KING's
Dachauer Straße 12,
80335 München
Call: +49 (0) 89.45209380 / +49 (0) 89.452093811
Email: [email protected]
Focus Lounge by KING's
Dachauer Str. 13,
80335 Munich
Call: +49 15735997470
Email: [email protected]
Hanna King, CEO
KING's Hotels Munich
+49 89 551870398
[email protected]
Visit us on social media:
Facebook
Instagram
Other


Originally published at https://www.einpresswire.com/article/639873476/munich-hotel-launches-co-working-cafe